Sales funnels don't have to be complicated. In fact, if you've never set one up for your business before I would highly recommend making it as simple as possible. That way, you can learn as you go, start seeing results straight away, and expand your funnel from there. I wrote this post to give brand new beginners an easy-to-follow guide to setting up that funnel. This will be useful for you if you have a brand new business, haven't yet launched, or have launched but are completely new to marketing your business online. And if you lack technical experience and hate jargon, I've done my best to keep this guide simple, non-techy and jargon-free.
Please note this post contains affiliate links. Please refer to my disclosure for more information.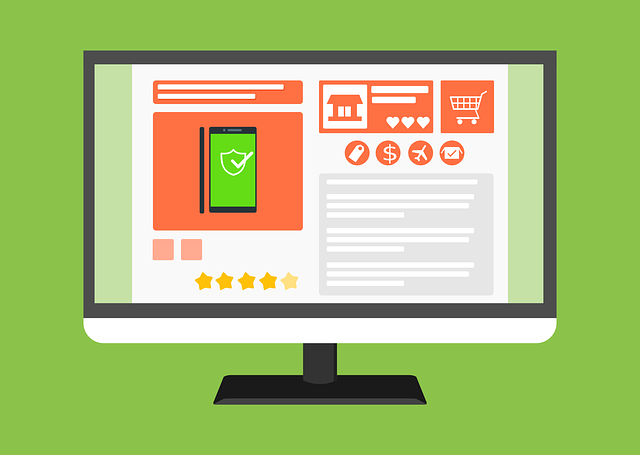 What is a sales funnel?
First, let's start with a quick explanation as to what I mean by a sales funnel.
A sales funnel is a set of tools and systems that you put in place to capture leads. They help move someone from stranger, to prospect, to lead, to customer. Online, they often consists of a freebie to entice people to sign up (a lead magnet). They also include a page where people can sign up with their email address to get the freebie (an optin page). Finally, they include a way to automatically send that lead promotional emails (an autoresponder).
That's a basic funnel. There are far more complicated funnels out there with all sorts of extra bits and pieces in place. But we'll be ignoring those in this post; you don't need to worry about them if you're new to all this.
Why you need a sales funnel
A sales funnel is one of those things that you don't think you need until you get one, and then wonder how you ever did without it. If you run any type of coaching or consulting business, and your business model relies on getting regular new leads into your business, then a sales funnel will take away a lot of the stress associated with that whole, panicked "where is my next client going to come from?" feeling.
In other words, it gives your business some predictability, by channelling all your prospects through a funnel that filters out the not-interested, and leaves you with the good, high quality leads. And most importantly, it ticks over and over on it's own with minimal human input, and that to me is the most useful aspect. That's what I mean when I say you'll wonder how you ever did without one – it's so nice just to see leads still coming in after you've taken the day, weekend or week off work.
What tools you need to build a sales funnel
These are must haves. I'm going to give you my recommendations, and a few alternatives. Most aren't free (though many have free trials), but a sales funnel shouldn't be free anyway. It's a long-term investment in your business, and why wouldn't you invest in your business if you truly believe in making it work?
To make your freebie: Canva (it's free)
Canva is by far the easiest graphics tool to use and though they have free and premium options, I've yet to find a situation where I've had to pay for a premium version because their free offering is just so good.
Get the free version of Canva by clicking here>>
To create an optin: Clickfunnels (starting at $97/month) or Unbounce (starting at $79/month)
Optin (or landing page) software is probably going to be your biggest upfront investment for your business, but it is critical to growing an email list and is one of the first things you need to get in place (it's even more important than having a website! It means you can start to get people on your email list before you launch). The two tools I've recommended are some of the best on the market and there's a reason for that. There might be cheaper tools around but once you've invested in a platform and built your optin and sales pages it can be a hassle to switch over to a different tool and have to build it all from scratch. So invest in a good tool now that will support you for years to come.
Clickfunnels is the tool I use and it has been pivotal in how I've grown my business and my email list. The tool is incredibly easy to use which means you can build slick optin and sales pages in a matter of hours without any technical know-how. The other reason I use it is you get the most amazing training and support that sits alongside your Clickfunnels dashboard, and I still use that training now, years after I started investing in the software. They have a 14-day free trial so it's a great opportunity to sign up, watch their basic training, and create your first landing page, and start getting some results before you actually have to make a decision about investing in the tool. 
Get a 14-day free trial of Clickfunnels by clicking here>>
Top tip: if you aren't at the stage where you feel ready to invest in a tool but really need to get a sales funnel in place for your business, I'd highly recommend buying Clickfunnel's One Funnel Away training first (the $100 is a small price to pay for the amount and the quality of the training on offer) and once you've done the basic training, get a 2 week free trial of Clickfunnels to have a go at setting everything up and getting your funnel in place). Get the One Funnel Away offer whilst it's still available by clicking here>>
The other tool I really love is Unbounce, and at just $79 I think it's one of the best value funnel tools on the market. They offer all the functionality you will need to get a good funnel set up and their essential package is ideal if you are on a budget. They also have a 14 day free trial, so get signed up and try creating your first landing page, to see if it's a good fit. 
Get a 14-day free trial of Unbounce by clicking here>>
And lastly, to create an email autoresponder: ConvertKit (free up to 100 subscribers) or GetResponse (starting at $15/month)
A good email autoresponder is another must, because as your email list grows, you want a reliable platform with good deliverability to ensure the hard work (and money) you've put into growing your email list doesn't go to waste. Here are my recommendations for you:
Convertkit is my preferred email autoresponder (I'll cover more in the rest of the post about the purpose of an autoresponder) and it's the one I use. As with most of tools I typically opt for, I love it for the ease of use and the flexibility. It's also a particularly good recommendation if you plan on having more than one funnel, or have more than one type of customer, as you can tag people who join your email list and send them tailored marketing messages based on what group they are in (e.g. promoting maternity products to expectant moms vs promoting kids products to moms of toddlers). Although that might be something you aren't considering right now, once your business gets more established it's a very useful tool to have and can make a huge difference to your sales conversions. Convertkit also have a free starter offer for your first 100 subscribers which is a great option if you are just starting your email list (they also have a landing page builder which you can use in place of a website and in place of an optin tool). 
Sign up now to a free ConvertKit account>>
GetResponse is the email autoresponder I used to use (before switching to convert kit), but it's still a great email autoresponder and I would still recommend it for small businesses. The useful thing about getresponse is that you can create really nice looking landing pages too, so if you want to save money, you can skip investing in landing page software and just buy getresponse to do everything for you. They have a very generous 30 day trial, which is plenty of time to evulate whether it's the right option for your business: 
Try Get Response for free for 30 days by clicking here>>
3 day plan – the simple sales funnel for the beginner marketer
Day 1 – Create a quick freebie
Create a 1 page PDF freebie for your existing audience. If you're not sure what that should be, survey them (I'd recommend using Survey Monkey). The freebie should be enticing enough that visitors are willing to give you their email address to get their hands on it, and it should solve a burning problem that they are currently experiencing.
You might be surprised that I suggest a 1 page freebie. After all, you've probably seen things like eBooks and video series given away for free. But there's two reasons why I suggest a 1 page PDF:
Firstly, it's quick. That's important, because the faster you get your funnel up and running, the faster you can see if it's working for you or not. It's about getting something done, not about it being perfect.
Secondly, short guides are massively appealing as long as they do a good job of solving a problem, so a 1 page PDF can be just as valuable – if not more so – to your audience. Think of it this way. Imagine you have eczema, and you are desperate to get rid of it. You can either get a free 30 page book with 1000 remedies listed in it, or you can get a 1 page PDF that has the one definitive remedy that works in 95% of cases. Which one would you prefer to read?
The tool to use to create your freebie
Use Canva to create your one page freebie. It will publish as a PDF, and it has great fonts and graphics for you to include, to give your guide that professional-looking finish. Quality and branding is important, because this is your first opportunity to wow your audience. If you're not confident on the branding side (and I'd really give Canva a go before you decide that, as it's super-easy) then write your guide as a one page word document and pay a designer on Fiverr to turn it into a nice, presentable PDF.
Day 2 – Put together your optin page
An optin page looks something like this: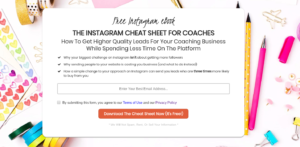 You can also see this actual page by clicking here (sign up if you haven't already – it's a useful guide!).
If you use Clickfunnels or Unbounce, this is really easy to set up. Both platforms are designed for the non-techy (which is why I've recommended them here). They have easy add and remove features, and ready-made templates you can use – that's your best bet as a beginner because you can forget about fancy design and just edit them with the appropriate headline text to advertise your freebie.
Don't get too worried about setting this up if you haven't done so before. The most important thing to focus on when it comes to your optin page is your headline. This is the big, 1-2 sentence headline you use to capture attention and attract your ideal client to your offer. I always aim to spend several hours brainstorming headlines when I write an optin page – it's really that important.
Don't forget that when putting together this page, you'll also need to set up a thank you page for visitors to go to once they've entered their email address. Again, if you are using Clickfunnels or Unbounce this is all in place for you, so you just need to make sure your thank you page has some nice, friendly wording on it (top tip: use your thank you page to encourage your users to go straight to their inbox and open the email you've just sent them).
Day 3 – Link up to a 3 day autoresponder
Lastly, is the autoresponder. Naturally, if people are giving you an email address, you need to be able to send them emails. An autoresponder lets you pre-write emails that will send automatically once someone joins your email list. I recommend – for a basic funnel – a series of 3 emails: 1) a welcome email to be sent immediately containing a link to the freebie they've just signed up to 2) a second email on day 2 packed with lots of value, so that they can get to know you better 3) a day 3 email either with more value or a small promotional offer.
You'll need to integrate your email autoresponder with your optin page platform – i.e. Clickfunnels or Unbounce. There will be instructions on how to integrate this (it's too much to include in this post) but it's pretty simple to set up and one of the reasons I always recommend Clickfunnels is they have a really good support platform, so if you get stuck and can't figure it out, there's always someone on support chat to help sort it.
What should you expect once you've set up your first sales funnel?
For a beginner, I'd aim for a conversion rate of around 20%. That means, for every 100 people visiting your optin page, 20 sign up to your list. Whilst that may sound like a big number, it's very achievable, and I often create optins that convert double or triple that rate, but 20% is a good figure to aim for if this is your first funnel. The platform I've recommended has a reporting function so that you can see what your conversion rate is every time you login. If – after the first 100 visitor, your conversion rate is below 20, that's the time to start having a more detailed look at your funnel – things like traffic quality, headline quality and the actual freebie you're offering might need some attention from you to get that figure up.
All being well, you now have a funnel in place that's allowing you to convert a good percentage of traffic who discover you online. These are incredibly valuable leads who you can promote and market your business to. If you have a good quality traffic source in place – whether that's via your blog, Instagram, Pinterest, Facebook or Twitter, you should find that this funnel will tick over nicely for a long time, with minimal input from you. That's when it starts to become an asset. It means you have a lead generation tool that's in place and growing 24/7, even when you go off to the South of France for two weeks to soak up the sun.
Get the Full Guide Now
We've put together a complete guide to setting up your sales funnel. You can download it now by completing the form below.
Summary
Article Name
How To Set Up Your First Basic Sales Funnel In Just 3 Days
Description
Beginners guide to creating a sales funnel for your coaching business
Author