With a rise in things like ad blockers, and ongoing political controversy surrounding major advertising networks like Facebook, it's no surprise that marketers are looking at an alternative route to grow their audience online.  Influencer marketing is one of the hottest methods around and is rising at a faster rate than online ads.
One of the best platforms that companies have used for Influencer marketing is Instagram. So if you're new to influencer marketing and want to know if it's right for your business, I've put together this little step-by-step guide to help you get started.
Please note this post may contain affiliate links. Please refer to my disclosure for more information. 
The Potential to Grow Quickly with Influencer Marketing
First, the exciting bit. Get influencer marketing right, and it can grow your business fast. Consider, for example, that you're about to launch a new eCommerce business specialising in a new brand of sunglasses. Getting 10-20 of the biggest fashion influencers on Instagram to model those glasses for you on their accounts, and you have the potential to launch a business which is something of an "overnight success" – perhaps even selling out in the first week and becoming a must-have item on everyone's fashion list.
Now the bad bit. It's still relatively new, highly unstructured, has few standards and with little regulation (outside the normal advertising regulations and laws – I'll steer clear of that in this article but check your own country's regulations). And like with a lot of things on social media, there are a lot of unscrupulous people out there who will take your money and give you little in return. So before you get started, you need to understand how it all works.
What is an influencer?
Many people imagine an influencer to be someone like Kylie Jenner – a huge celebrity with millions of online followers who can get your product featured in the news with one single Instagram post. And that's probably true. But if she does promote products and businesses for a fee, it's likely to be outside the price range of most businesses.
In fact, even big businesses have clued themselves up to the fact that big celebrities aren't the way to go when it comes to influencer marketing. Yes, they might have big audiences, but those big audiences are vast and not often aligned with your target market.
What most smart marketers do nowadays is steer clear of the celebrity accounts and instead focus on smaller, more niche accounts – people you've never heard of but with a strong, loyal online following. So when I'm talking about influencers, that's the type of person I'm referring to.
How Influencer Marketing Works
Influencer marketing is relatively simple – certainly it's easy from a technical point of view (especially if you've ever tried to grapple with Facebook's so-called "power" editor).
You'll create a promotional Instagram post and hand that post over to an influencer (sometimes influencers prefer to create the content themselves – especially if it's product placement i.e. a picture of them wearing your sunglasses brand). That influencer will then post that content on their Instagram feed, often with a caption telling their audience how great you are and to check your account out and to follow you. Sometimes they'll also add your link to their profile. And that's it. Their followers see the post, see the recommendation from the influencer, and many of them will go and check you out. In return for the fee you pay to the influencer, you get more followers, more traffic, and providing you have a good sales funnel, more customers.
Is Influencer Marketing Good For Traffic?
In short, yes influencer marketing is a great traffic source. But it's also about quality over quantity. I'd never claim it's a method that will get you millions of clicks, but it can get you hundreds or thousands of very high quality clicks – that's far more valuable to any business. These are clicks of people highly likely to buy from you. After all, what better lead than one who comes to you because someone they respect has recommended you?
What type of product can you sell using influencer marketing?
Don't fall into the trap of thinking that influencer marketing is only good for physical products. There are plenty of businesses who have had huge success using Instagram influencers to promote services, digital products, books – all sorts really. It doesn't matter what you are promoting – what matters is finding an influencer who is aligned with your brand (your target customers are following them) and that you have a good, high quality promotional strategy in place.
What about using paid shoutout websites or other influencer brokers?
I've tried brokers and shoutout websites where you buy a shoutout order direct from a website and I can't personally vouch for them. The results aren't good and the quality of followers – in my experience, is poor. However, I will say that I think these types of websites are on the rise so I do expect that in the future there will be far better quality brokers and intermediaries around. For now, I would go direct to an influencer rather than use one of these websites.
On the other hand, platforms that help you to search for an influencer to connect with a great. And nowadays they have great technology that helps them keep tabs on the authenticity of an influencer, so they can keep fake accounts at bay. My personal recommendation is publicfast, which also has a free starter account which is fine for most small businesses.
How to pick a good influencer
Smaller and specific is better. And often it's best to find influencers who are less established. The popular ones will have high rates and you don't want to be paying that. Look for influencers who are really aligned to your market when it comes to target customers. That doesn't mean they are a competitor, just someone who you might have some common ground with. For example, if you are promoting virtual assistance services as a business, have a look at influencers in areas such as website branding – often they'll have clients who are doing a website overhaul and those may be people who need a virtual assistant to help with the website launch.
Always look at the engagement levels an influencer is getting before you approach them (that's the benefit of using an influencer network like this one). It's far more important than their follower count. Obviously look at likes, but I would pay most attention to the number and type of comments they are getting. If they are getting really personal comments from their followers rather than generic ones (i.e." wow I love that new hairstyle on you!" rather than "great post") then that's a good sign they have a really loyal, highly engaged following.
To start finding influencers, start with your own followers (your most loyal, engaged followers). Look at who else they are following. Click on that person and view related accounts. This is the best way you can start searching for the right person to approach. Another good tip is to try a hashtag search, and see what big accounts that uncovers.
How to approach an influencer about a promotion
The best way to contact an influencer is via email. Second best is via Instagram DM (some accounts won't read these so be warned). Sometimes you'll see on a person's profile that they use Kik – this is a messaging app that's popular with Instagrammers, and they might prefer that for contact.
When approaching them, keep it short, clear and personal (I.e. use their name! It's so frustrating when someone has obviously sent you a cut-and-paste email headed Dear Sir). And just drop them a quick message with something like this:
Hey Lauren – Hope you don't mind the direct email but I'm looking at running a shoutout promotion on Instagram and I am a big fan of your account. I'm trying to find a couple of influencers who'd be happy to promote my account to their following in exchange for a small fee – is this something you might be interested in? If so, if you could send over your current rates? 
Negotiating a rate
There's no going rate as such, so it's difficult to give you a figure. And of course it depends on the industry you're in – it will vary. But I'd focus on starting your paid rates with accounts with other 50k followers as a minimum- probably more, and I'd negotiate a repeated promotion for that size of account(maybe with profile link too). Test the waters with a rate you can afford. Or ask influencers for their going rate.
However, if you are promoting a physical product, most of the time you can negotiate giving the influencer the product as a freebie in exchange for a promotion – so you won't need to pay a fee on top.
A few bits of detail that's worth bearing in mind when agreeing a deal. First, make sure the shoutout will stay on the influencer's account for at least 24 hours. Secondly, check what time they plan on running the shoutout (you don't want them to post your promotion during the dead hours when their followers aren't online) and make sure they don't run other promotional posts straight after it (ideally you want at least a 2 hour window between posting your promotion to when they do their next Instagram post). Lastly, use Paypal to transfer payment and let them know this from the start.
Influencer Marketing When You're on a Tight Budget
If you've got this far and are wondering whether you really have the budget to pay an influencer then there are a couple of alternative options that's great for smaller accounts. The first is a shoutout swap, where you shoutout their account in exchange for shouting out yours. This is a good way to build your follower base provided you partner up with some quality accounts that are of similar size to your own. The second is to offer commission rather than a flat fee, where the influencer will be paid a commission for any of your products they sell to their audience. If you get a good influencer who is popular with his or her audience, and knows how to sell, this method can be extremely valuable.
Keeping track of performance
As with any type of marketing, you have to keep track of how your promotion is performing. I use a tracking tool called Clickmagick (here's a link to their free guide on tracking) to help with this as it allows me to track clicks and conversions, but there are plenty of options you can use to make sure you are keeping an eye on whether a promotion is performing well – even simply using a bit.ly link will give you basic stats on how many clicks you are getting during a promotion.
It's good to test out several influencers and compare their results side-by-side, in the same way as if you were split testing ads during a standard ad campaign. If one stands out, why not negotiate a longer-term repeat package with them – say once a week for 8 weeks. You'll be able to get a better rate for repeated promotions from an influencer too.
Building long term relationships
A great influencer is a huge asset to your business. So take the time to get to know them. Connect with them on all their social media platforms and make sure you interact with their social media content.
Finally – A Top Tip To Maximise Your Promotion
Make sure you respond to any comments on the post and if you can, get your friends to interact with the post too (such as liking and commenting) so you can improve the reach of that on Instagram. It's also worth following anyone who posts a genuine, positive comment on the post. These are likely to be your target audience and are worth getting to know better.
Taking the next steps
Before you approach influencers, do your research on the type of person you are looking for (and to save yourself hours of time in the search, definitely take a look at the long list of influencers here to help you quicken that process). Get together a great shortlist of people before you start approaching them. And make sure you have a clear plan of action for how you are going to tempt these influencers either with a fee, commission or shoutout swap.
Bonus Tip – How to Build Your First Sales Funnel
Of course, just running a promotion in itself is not going to do anything for your business unless you have something in place to turn those followers into customers. So now's the time to start thinking about how to use that following to start making sales for your business. You can access our free Smart Funnel guide by entering your email address below, and discover how to create your first sales funnel for your small business.
What To Read Next
If you're trying to grow your Instagram following, read my case study for how I grew to over 3000 followers in just 6 weeks (from scratch)
Here are 20 inspiring coaches you should be following on Instagram
The top 109 most popular hashtags on Instagram for entrepreneurs
6 quirky Instagram marketing campaigns that will leave you inspired
Summary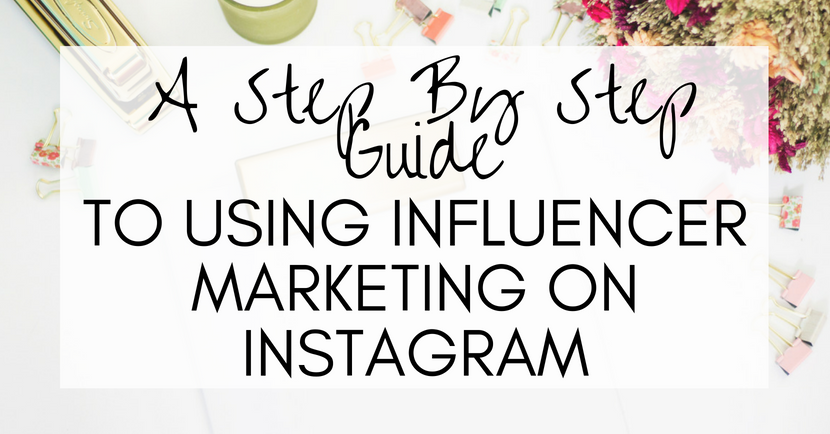 Article Name
A step by step guide to using Influencer marketing on Instagram
Description
Everything you need to know before getting started with influencer marketing on Instagram, in an easy to follow guide to the hottest marketing method around
Author