The most popular Instagram hashtags for entrepreneurs can double or even triple your engagement. That's not just important in terms of a social media tick in the box for your startup. High engagement on Instagram also means the platform will start showing your posts to more people. And that's how Instagram determines what is, and isn't, good content.
Please note this post may contain affiliate links. Please refer to my disclosure for more information.
One of the best ways you can start improving your engagement today is to experiment with the hashtags you use. Trying new hashtags will bring your posts to a new audience. Plus, you might stumble across a hashtag that really resonates with your perfect customer. The best-case scenario? Your post could "go viral, meaning your post sits in that coveted spot at the top of the hashtag search. If you do that, you're going to start seeing a lot of success very quickly.
I have done a lot of experiments with hashtags, both on my own accounts and customers'. If you're an entrepreneur looking to use Instagram as a means of reaching your audience, I thought it might be worthwhile to share with you some of the most successful hashtags I've discovered.
I've broken this down into 15 categories. Next to many of the hashtags, you'll see a category of "good" or "best". I'll explain what that means at the end of the blog post.
Quick Author Note
If you're in a rush but want to know how I put this list together, check out the Instagram hashtag feature provided by this Instagram tool as that's the hashtag tool I use on my own account and used to put together this list.
The Most Popular Instagram Hashtags – The Full List
Small business
#onlinebusiness (good)
#homebusiness (best)
#smallbusinesslove
#startupbusiness
#startupstory
Entrepreneurs
#businessowner (good)
#smallbusinessowner (good)
#beyourownboss (good)
#businessowners (best)
#entrepreneurial (best)
#startups (good)
#entrepreneursofinstagram (best)
#entrepreneurspirit
Women in business
#femaleentrepreneur (good)
#womensupportingwomen (good)
#ladyboss (good)
#womeninbusiness (good)
#womenempowerment (good)
#bosschick (best)
#womenwhohustle (best)
#womenpower (best)
#wahm (good)
#bosslady (good)
#bosschicks (best)
Blogging
#contentmarketing (best)
#inboundmarketing (best)
#blogginggals
#bloggingcommunity
#blogginglife
Marketing
#digitalmarketing (good)
#onlinemarketing (good)
#emailmarketing (best)
#marketingdigital (good)
#salesfunnel (good)
#internetmarketing (best)
#listbuilding (good)
#leads (best)
#webmarketing (good)
#mktdigital (best)
#growthhacking (best)
Social media
#socialmediamarketing (good)
#instagramtips (good)
#socialmarketing (best)
#socialmediamanager (best)
#socialmediamarketingtips
#socialmediastrategy
#socialmediaqueen
#socialmediastrategist
#socialmediaconsultant
Motivation
#dreambigorgohome (good)
#gottastayfocused (good)
#hardworker (best)
#passionate (best)
#stayfocused (good)
#dailymotivation (good)
#successmindset (best)
#businesspassion (best)
#dreamers (best)
#selfgrowth (best)
Quotes
#motivationquote (best)
#entrepreneurquotes (best)
#quotesdaily (good)
#inspirationalquote (best)
#motivationquotes (best)
#successquote (good)
#businessquotes (best)
#inspiringquotes (best)
#quotesaboutlife (best)
Education
#learnfromthebest (good)
#personaldevelopment (good)
#alwayslearning (best)
#biztip (good)
#personalgrowth (good)
Networking
#businesspartner (good)
#communityovercompetition (good)
#networker (good)
#helpothers (best)
#risingtidesociety (good)
Leadership
#followtheleader (best)
#mentorship (best)
#leaders (best)
#speaker (good)
#millionairementor (best)
Business Lifestyle
#entrepreneurlife (good)
#entrepreneurslife (best)
#workandtravel (best)
#entrepreneurlifestyle (good)
#businesslife (best)
#startuplife (good)
#workanywhere (good)
#freelance life (best)
#digitalnomad (best)
#laptoplifestyle (best)
Creativity
#creativepreneur (good)
#mycreativebiz (best)
#getcreative (good)
#calledtobecreative (good)
#creativelifehappylife (good)
#creativeminds (best)
Websites
#seo
#techstartup
#techbusiness
#websolutions
Promotion
#businessopportunity (best)
#followmystore (good)
#grabitbeforeitsgone
#shopsmall
#satisfiedcustomer
#happycustomer
How many hashtags should you use per post?
I have read differing opinions on how many hashtags you should use on a post. Some marketers swear by using all 30. However, other marketers suggest a maximum 5-10. From my own experience, I have seen great engagement with around 10. Nevertheless, when I have used the maximum of 30 I have also seen great engagement. In other words, it doesn't seem to do my posts any harm. Thinking rationally, Instagram has allowed the use of 30, so why on earth would they penalise their users for using that number?
A useful tool to help you discover the best entrepreneur hashtags
I mentioned at the start of the post that some of these hashtags contain a little category: "best" or "good".
These hashtags are the ones that my scheduling tool recommends to me for my posts. It classifies hashtags into 4 categories: "good", "best", "competitive" (meaning: lots of competition for that hashtag – I tend to avoid those) and "niche" (niche are great little finds if you're running something like a competition – always try and discover a few niche hashtags for each of your posts if you can).
I find this good/best/competitive/niche classification really helpful because it means each time I post on Instagram, I have that reassurance that I'm definitely using the best hashtags for a post instead of just doing a last-minute scan of Instagram for recommended hashtags (which aren't always that helpful). It can make a huge difference to the reach of your post and the number of likes and comments you get.
The tool I use is Tailwind and one of the reasons I picked Tailwind as my Instagram scheduler (other than the hashtag feature), is that I can automatically schedule Instagram posts from my phone, which saves me a LOT of time because I can manage my account on the go (personally speaking, this on-the-go thing is especially useful as a busy business owner and mother to three young children!).
Tailwind actually has a free trial at the moment that you can sign up to without a credit card (I always find that helpful when testing a new tool if I'm not yet 100% committed to buying). If you want to give it ago, I've added the link below.
One last final tip before you start using hashtags for your business
Above everything, I always tell my clients not to be swayed by a hashtag simply because it's popular. Yes, it might get you plenty of likes, but ultimately a hashtag has to attract a customer. So whilst the hashtag #mycreativebiz might be a great hashtag, if you don't have a "creative" biz then ultimately you are attracting the wrong people to your profile. Always bear that in mind when picking hashtags – first and foremost they must always be relevant to your target audience.
What to read next
Read my step-by-step case study on how I grew a 3000 following on Instagram in 6 weeks – from scratch
Want some inspiration about what to post? Here are 11 types of content that work great on Instagram
Found This Post Useful? Don't Forget To Pin It So You Can Refer Back To It Later: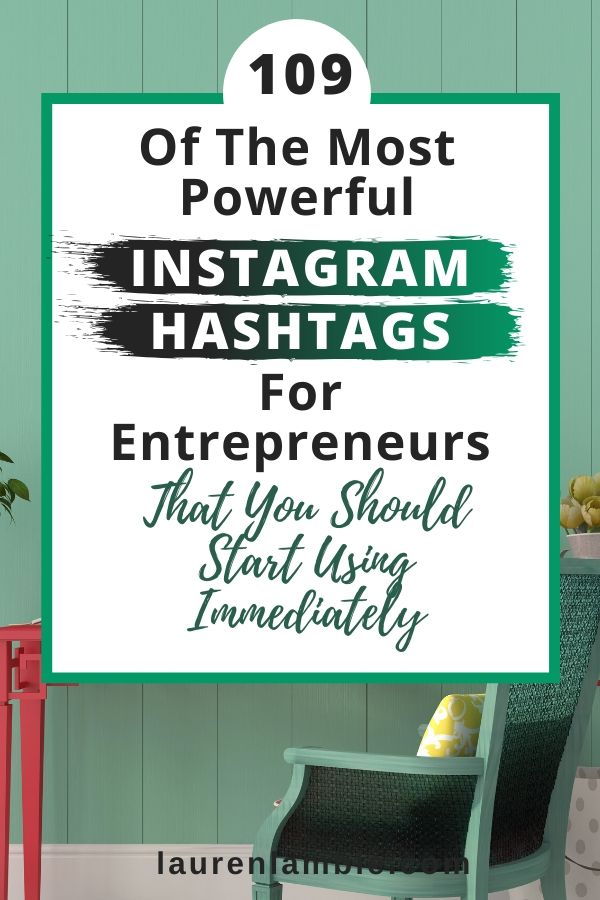 Summary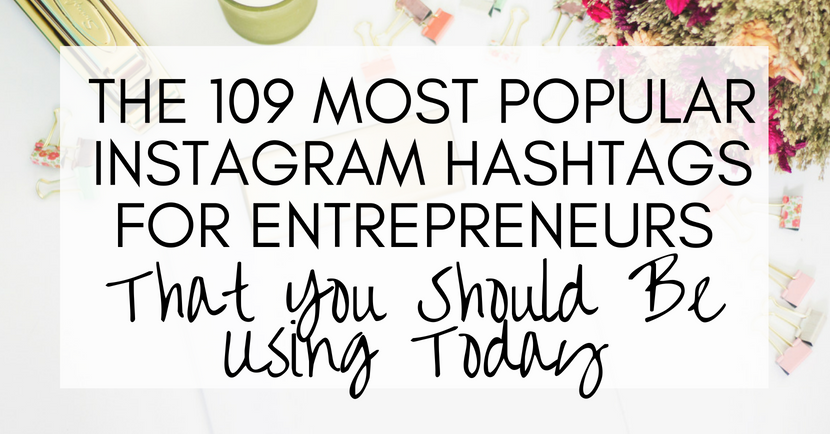 Article Name
The 109 most popular Instagram hashtags for entrepreneurs
Description
Want to grow your Instagram audience? Here are the most popular instagram hashtags to use on your posts to attract the right audience to your content
Author