If you're serious about using social media to grow your business, you need to spend less time on social media. A contradiction? Not necessarily….
It's easy for startup and small businesses to get on social media, post a few bits of content, and end up spending an hour browsing, commenting, liking. It's fun, right? After all, these brains behind the likes of Facebook, Twitter and Instagram have designed their platforms to have that sort of addictive quality about them.
But that's not always time well spend when it comes to your business, because it doesn't pay the bills. Sure, you may be gaining followers, but don't trip up in thinking that followers = revenue.
So, what's the solution? You need to plan out your content in advance, and invest in a scheduling app that's going to do all the legwork for you.
Here are 10 of the best scheduling apps around for Instagram.
Please note this post contains affiliate links. Please refer to my disclosure for more information.
For those of you in a hurry, here's a sneak peak of my top recommendations from the list.
What To Look For In A Scheduler
It can be overwhelming reading through hundreds of features from different scheduling tools, and trying to work out what is going to be most important for you (especially if you haven't used a scheduler. So here are some tips as to what to look out for:
Does the scheduler allow you to auto-posting, rather than manually going into Instagram to post your content?

Is it easy to use, and can you use all features via an app on your phone?

Does it have the ability to preview your layout prior to posting?

Does it allow you to do evergreen content scheduling (i.e. reposting your most popular content again)

What sort of analytics does it have? And what do you actually need? Some tools might have more sophisticated analytics than what you'll end up using (unless you are an agency)

Does it offer a free trial so you can try before you buy?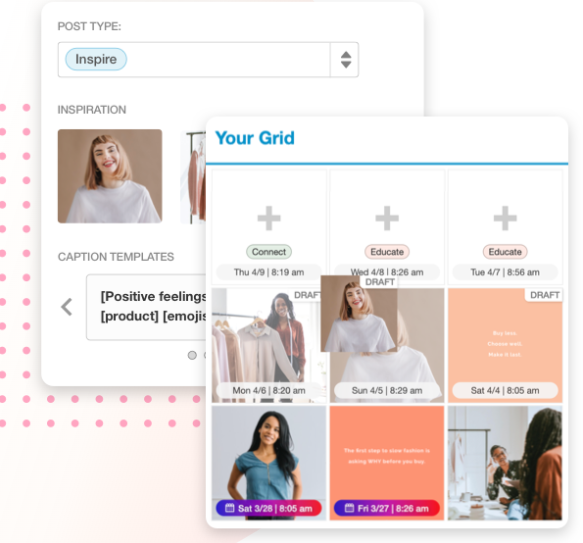 Tailwind is the tool that I currently use because, after trialling a few different schedulers, it has given me the best results which is why I recommend it. It's also great value for money. If you promote on Pinterest, it also has some of the best features on the market for that platform including tribes, which are networks of influencers sharing your content.
Key features: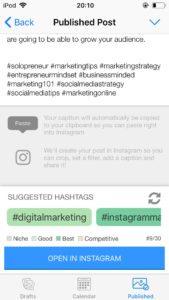 Drag and drop scheduling tool on a mobile app

Automatic scheduling to Instagram

Hashtags posted to the first comment

Hashtag discovery tool

Smart bio to link your most popular posts or key offers

on a smart landing page from your profile
Best for: Solopreneurs, bloggers and coaches
Pricing
$9.99 per account per month
Get started with a free trial of Tailwind now (no time-limit to the free trial, no credit card required)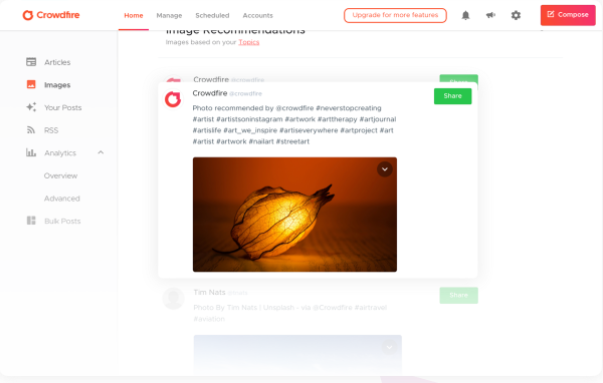 Crowdfire was one of the first-to-market when it came to developing slick, easy to use apps for scheduling social media, and have since evolved into one of the best platforms around for content curation, not just for Instagram but for LinkedIn, Pinterest, Facebook and Twitter too. It'll link up to your blog feed, so that when you publish new content, it will seamlessly appear on the app next time you log in, for you to schedule (and also allow other people on Crowdfire to curate and share your new content at the same time, which is great for getting content going viral).
Key features
Content curation – curating the best posts for your Instagram feed
Post scheduling via the app or the desktop
Automatic "best times to post" suggestions
Queue meter, so you can always ensure you have fresh content ready in your publishing queue
Full analytics suite
Competitor analysis, to discover top posts and performance overview
Mentions dashboard with the ability to directly reply
Best for: Bloggers
The ease of scheduling freshly published content across all your social media profiles makes this app a huge asset.
Pricing
Crowdfire has 4 pricing options:
Free (1 account, limited to 10 scheduled posts, no Pinterest)
Plus ($7.48 per month, 2 accounts, 100 scheduled posts per account, covers Instagram, Twitter, Facebook, LinkedIn and Pinterest)
Premium ($37.48 per month, 5 accounts, 100 scheduled posts per account, covers Instagram, Twitter, Facebook, LinkedIn and Pinterest)
VIP ($74.98 per month, 50 accounts, 800 scheduled posts per accounts, covers Instagram, Twitter, Facebook, LinkedIn and Pinterest)
Give Crowdfire a try now for free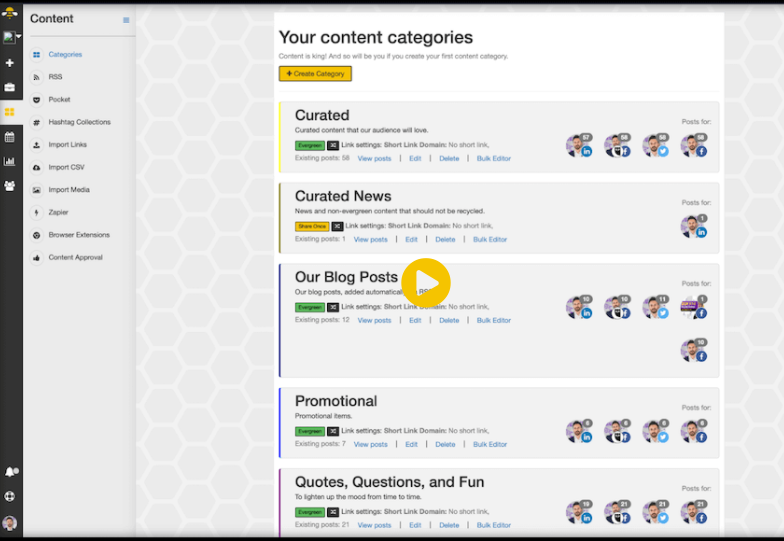 One of the features that really stands out with Social Bee is their concierge service, which is a great low-cost way for solopreneurs to get support for their social media without the commitment of hiring a social media manager. Social Bee is a feature-rich scheduling and content curation tool, which is popular with many small business owners who want to save time on their social media tasks.
Key features
Category based evergreen posting, with an organised dashboard to repost your most popular content to your audience
Import and RSS features to automatically upload new content from your blog or elsewhere, ready to be scheduled
Concierge service, for dedicated social media support to help manage your social media content
Custom URLs and tracking, to provide relevant reporting on how your content is performing
Audience analyzer – to discover your targeted audience and connect with them directly, through keyword searching, or to find competitors and influencers
Best for: Busy Small Business Owners
Social Bee is a great option for busy small business owners who need to keep their social media accounts updated, but struggle to find the time.
Pricing
Social Bee has 3 pricing options:
Bootstrap – ($19 per month, 5 social profiles, 1000 posts per category)
Accelerate – ($39 per month, 10 social profiles, 5000 posts per category)
Pro – ($79 per month, 25 social profiles, 5000 posts per category)
Try a free 14-day Social Bee trial by clicking here (no credit card required)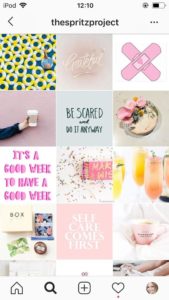 Famous for being the original drag-and drop-planning tool for Instagram (which other scheduling tools have since added), Planoly has a lot of loyal customers due to it's beautiful, feature rich platform and is a great choice for those looking for a really gorgeous, professional look and feel to their Instagram account.
Key features
An app to allow you to draft, organise and schedule content directly from your phone
A drag and drop feature to organise and preview your Instagram feed before publishing
Manage and reply to comments in one place
Discover, curate and repost other users content
Edit and plan stories (they also have designer templates for story creation which is a handy feature)
Track analytics
A feature called Shoplink (which is an extra $40 on top of their plan) which allows you to create a shoppable gallery for all your Instagram content and add that gallery as a link on your profile.
Best for: Etsy or craft shops, small eCommerce startups
The Shoplink shoppable gallery for all your Instagram content is a great way to feature your best products and dramatically boost sales from Instagram.
Pricing
Planoly has 4 pricing options:
Free (for small accounts – limited to 30 posts per month)
Solo ($7 per month – unlimited posts for one account)
Duo ($15 per month – unlimited posts for two accounts)
Custom (starting at $23 per month)
Get started with a free Planoly account here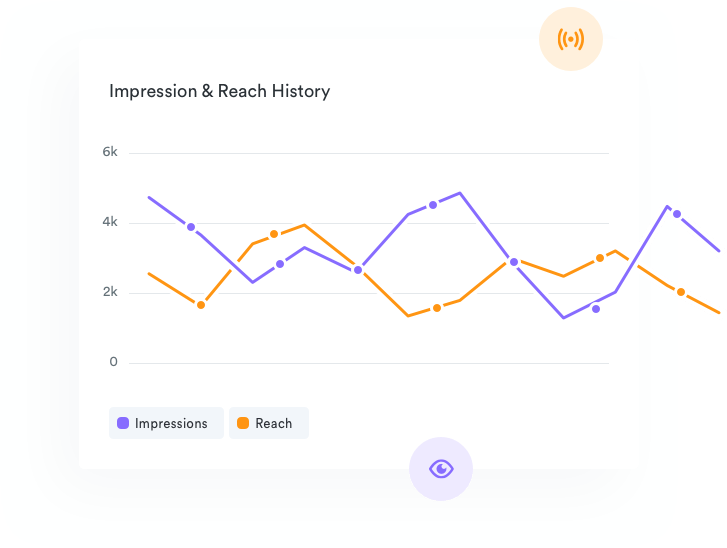 If you've heard the name Iconosquare before, that's probably because they have some fantastic guides and industry data on Instagram marketing. One reason for that is their market-leading analytics tools, that allow serious marketers to get to grips with how best to grow their social media profiles, which is one of the reasons Iconosquare is so popular with marketing agencies.
Key features
Auto-scheduling and posting of content
Track hashtag performance on Instagram
Advanced analytics, to help optimise your Instagram performance
Competitor monitoring
Respond to comments via the dashboard
Advanced search facility to scan hashtags for better customer targeting
Best For: Social Media Managers
Pricing
Iconosquare has 3 pricing options:
Pro ($39 per month, 3 social profiles, 2 team members)
Advanced ($79 per month, 5 social profiles, 3 team members)
Agency (price on request)
Start a 14 day free trial of Iconosquare now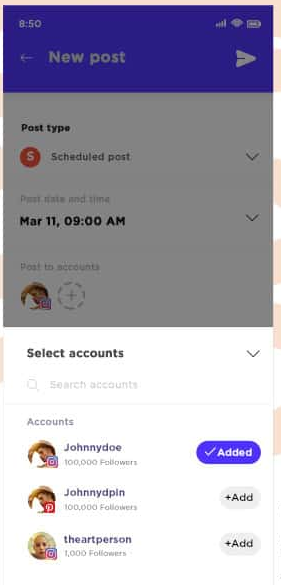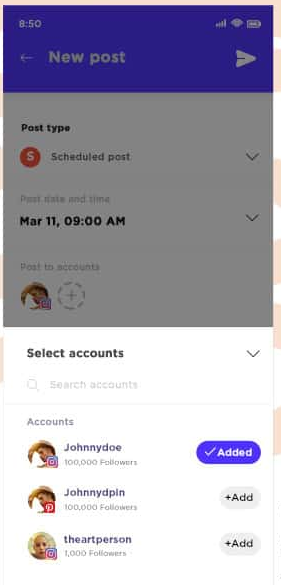 If you're only marketing on Instagram, Sked Social is a great option, as this is the platform they specialise in. One way they stand out from the crowd as far as schedulers go is their ability to automatically schedule stories, which is a great feature to have, particularly as this is a fast-growing feature in Instagram.
Best for: Coaches and influencers on Instagram
Key features
Instagram story scheduling and automatic posting
Ability to automatically schedule stories with a swipe up link
Repost your content to Twitter and Facebook
Mobile app to manage and schedule your content
Preview feature on the app for your scheduled feed
Instagram regram app for curing and reposting trending content
Pricing
Sked Social has 5 pricing options:
Fundamentals ($25 per month, 1 account, unlimited posts)
Essentials ($75 per month, 3 accounts, unlimited posts, content curation)
Professional ($135 per month, 5 accounts, unlimited posts, team collaboration)
Enterprise ($260 per month, 10 accounts, unlimited posts, designed for agencies and big brands)
Custom (price on request)
Grab my exclusive link giving you 20% your first month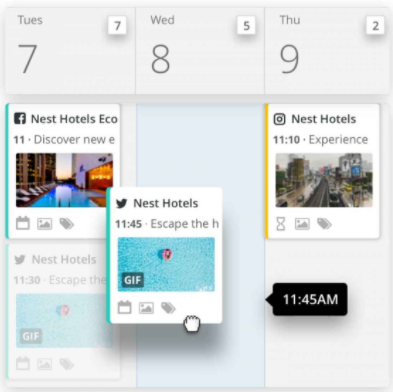 Hootsuite is one of the most well known and trusted social media scheduling tools around and used by some of the biggest brands online. It has a powerful dashboard to allow you to manage your full online social media presence in one place.
Key features
Auto-schedule social posts across multiple platforms
Easy access to all your content, with tagging options to help organise and curate your feeds
Create dedicated social media campaigns and measure the ROI
Listening tools to search for relevant conversations by keyword to help you engaging with your audience online
Best for: Small and medium-sized businesses with a dedicated team
Pricing
Hootsuite has 3 pricing options:
Pro ($25 per month, 10 social profiles, 1 user)
Team ($99 per month, 20 social profiles, 3 users)
Business ($520 per month, 35 social profiles, 5 users)
Start a free 30-day trial here
Buffer is another big-name scheduler with the ability to manage lots of different social media platforms in one place. They have all the features you'd expect from an Instagram scheduling tool including good analytics to help you grow your account. It has a helpful shop grid for eCommerce businesses looking to sell products via their Instagram account.
Key Features
Preset publishing schedule for each social media platform
Custom tailor posts to best fit each social media platform
At a glance calendar for all upcoming scheduled posts
Team collaboration
Preview your Instagram content
Shop grid to drive eCommerce sales from Instagram
Analytics suite
Best for: Small or medium-sized eCommerce businesses
Pricing
Buffer has 3 pricing options:
Pro ($15 per month, 8 social accounts, 100 posts per account)
Premium ($65 per month, 8 social accounts, 2000 posts per account)
Business ($99 per month, 25 social accounts, 2000 posts per account)
Try Buffer for free for 14 days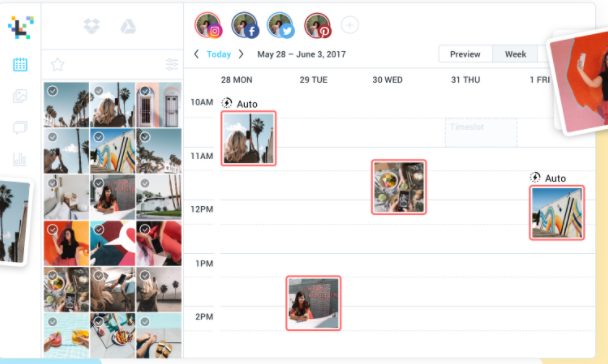 Later also has that nice visual planning feature that is so popular for Instagram scheduling, and also has good reposting features, which means you can repost (or regram as it's also known) other popular content to your feed (whilst crediting the original creator of course). That's something that is becoming increasingly popular on Instagram and it's a great way to keep your account fresh and active if you don't have a lot of time to produce content.
Key Features
Visual content calendar and drag and drop feature
Automatic scheduling to Instagram
Content library
Content curation and repost feature
Instagram analytics
Bio link with shoppable Instagram feed
Best For: Growing brand new Instagram accounts
Pricing
Later has 5 pricing options:
Free (0 per month, 1 profile, 30 posts per platform)
Plus ($7.5 per month, 1 profile, 100 posts per platform)
Premium ($16 per month, 2 profiles, 250 posts per platform)
Starter ($24 per month, 3 profiles, unlimited posts)
Brand ($41 per month, 5 profiles, unlimited posts)
Try later for free by clicking here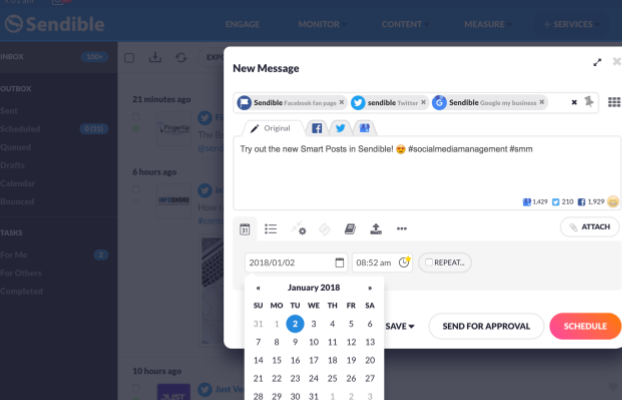 If you have or plan to launch a social media agency, then Sendible is a good option for managing multiple client Instagram accounts in one place. They also have a really nice "content recommendation engine" which will show you popular content that you should be posting on your account (or your client's account).
Key features:
A large number of supported 3rd party integrations
Google analytics integration
An interactive calendar for content planning
Preview scheduled posts on Instagram
Advanced analytics and reporting
Client collaboration and approval features
Best for: Social media agencies
Pricing
Sendible has 4 pricing options:
Starter ($25 per month, 12 services, 8 reports, 1 user)
Traction ($85 per month, 48 services, 15 reports, 3 users)
Growth ($165 per month, 105 services, 35 reports, 7 users)
Large ($245 per month, 192 services, 60 reports, 12 users)
Start a 14 day free trial of Sendible
Bonus Tip – Step-by-Step Guide to Build Your First Sales Funnel
You can access our free Smart Funnel guide by entering your email address below, and discover how to create your first sales funnel for your small business.
What To Read Next
Want some great Instagram case studies to get you inspired to grow your audience? Here are 7 of the best case studies around
Get my list of 109 of the most popular hashtags for Entrepreneurs on Instagram
Stuck for content ideas for Instagram? Here are 11 different types of content to inspire you
Summary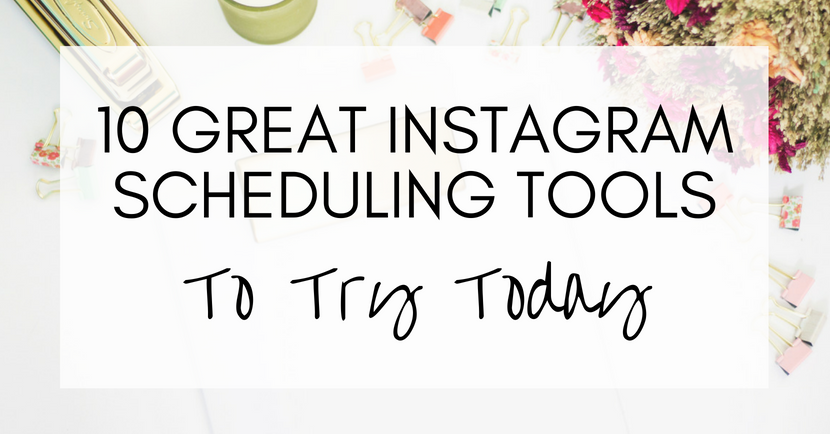 Article Name
10 great instagram scheduling tools to try today
Description
Want an easy automated way to manage your Instagram account? Here are 10 of the best tools on the market for scheduling your Instagram content
Author