I love reading case studies. I find them so helpful when it comes to growing my business. And especially when it comes to growing an Instagram following.
When it comes to Instagram, you'll know there are some businesses that have experienced stunning and very rapid success with it. I wouldn't call it an overnight success, but it's not far off.
Grow a large Instagram audience, build a rapport with that target audience, and sell to that audience. Sounds attractive to any new business, doesn't it?
In this blog post, I wanted to share with you my seven favorite case studies on the web for growing an Instagram following. These case studies have helped me build my own business using Instagram, and hopefully, they can help you, too.
Oh, and I'd recommend bookmarking this page so you can return later if you need to. Some of these case studies are lengthy reads (but well worth it, I promise).
Without further ado, let's begin.
Please note this post contains affiliate links. Please refer to my disclosure for more information.
The Science Behind Instagram Growth
Before we move on to the case studies, I think it's essential to look at some of the underlying principles – or science – behind Instagram's growth. This section will help you understand why some methods work and also help you grasp the strategies that you should avoid.
Engagement and the Algorithm
Instagram's algorithm values engagement. That's unlikely to change because engaging content is what brings people back to the site. That's always going to be a primary goal for Instagram, even if they update their algorithm in the future.
Visual Appeal Means Cohesive Content
Instagram followers want to follow aesthetically pleasing accounts. You need some cohesion so it looks great on your profile page. Think about themes, colors, and a harmonious way to connect your content.
Diversifying Is Okay
You'll hear a lot about the importance of knowing your niche to create specific content tailored to your audience. While that's important, it's also helpful to understand that from Instagram's perspective, diverse content is okay. If you are stuck for ideas, it may be that your niche is too narrow. Don't ignore the creative side of social media.
You Need to Know Your Numbers
Without understanding your numbers, you are working in the dark. And by numbers, I don't mean your follower count. I mean the more valuable insights that tell you whether your audience is engaged and your posts are getting any views.
Case Study #1: Nathan Chan – 10,000+ Email Subscribers Per Month In 1 Year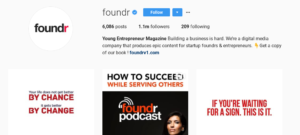 Nathan is truly one of the must-follow experts when it comes to growing an Instagram following. How he's grown his Foundr Instagram account for his entrepreneurial magazine is just phenomenal. This guy knows his stuff, and there are lots of great takeaways in this case study about the best ways to get new followers. He talks about sales funnels, too – a big topic of mine – so it's going to help you learn how to take a business-minded approach to Instagram that brings you a positive ROI and potential customers, rather than something that becomes more of a vanity metric for your business.
The section on what content to use is also helpful. It's tempting with Instagram to go for content that's popular. But as Nathan right points out, you want content that converts. That's a different matter and is the difference between using Instagram to become an influencer and using it as an effective and profitable business tool.
Make sure you also read his advice on how to write your captions. That's often the part that new Instagram users struggle to do well. Most of us tend to spend lots of time putting together an image or reel, and by the time we get to post it, we've not considered what to write in our caption and end up adding one or two comments. But as you'll see from Nathan's advice, your caption is where you're going to get those highly engaged Instagram followers converting into customers. If you want people to follow you,you must explicitly ask them to click that follow button. Don't assume they will if you don't ask.
Well worth a read.
Read Nathan's Case Study On How He Grew Foundr
Case Study #2: Nesting With Grace – 100,000 Followers In 1 Year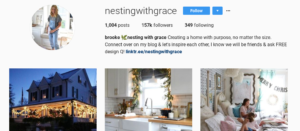 Grace has a beautiful Instagram account. It's the type most of us dream of, with gorgeous photos in stunning location settings. She's very authentic, and if you want to grow your account as organically as possible, her case study is the one for you.
She offers some great, practical advice that's easy to follow. For example, I enjoyed reading her explanation of how she took her time to view similar accounts before designing her feed. I think this is important because it's tempting to get stuck in and posting, but you could end up with a lot of regrets about how you've put together your feed. It's always good to take a step back and look at the bigger picture to understand your goals and how you're going to achieve those goals. Following others for inspiration is hugely valuable, and I suspect it always will be that way.
One thing you'll notice from her screenshots is the quality of comments she gets on her Instagram posts. That's a huge insight into why she has done so well. She writes long, captivating comments, adds beautiful, high-quality content, and genuinely captures people's hearts. People don't write long, lengthy comments unless they see something that resonates with them – she manages to do that with her followers. I strongly believe the Instagram algorithm will take comment quality into account when they decide whether to add your latest post to the top of someone's feed.
This case study is also a very inspiring article to read and will fill you with ideas and dreams of what you could create with your own Instagram account.
Read Grace's Case Study On Nesting With Grace
Case Study #3: Go Rattle The Stars – 50,000 Followers In 5 Months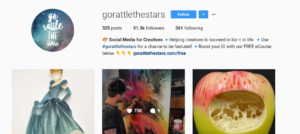 I love this blog, and I bet you will, too. This case study is an easy read, and there is so much to learn. Brie is very honest here about the work she did to grow her Instagram following. There is also plenty of data to show her growth rate.
Make sure you read her explanation of how she went viral with some of her posts. If you've never had viral content before, it can seem a bit of a mystery. Yes, viral content often happens by accident. However, you can engineer your social media content so that it has a higher likelihood of going viral. Her tips here are worth a read.
Brie also talks a lot about networking. It's a reality in this era that networking is the key to unlocking growth. That's as true for blogging, SEO, LinkedIn, Tiktok, and every other online marketing platform as it is for Instagram. There are many people in the same shoes as you who are equally eager to grow their following. Is it worth spending a couple of days trying to find and reach out to those people? The answer is yes, and Brie will explain what it did for her Instagram account.
If you're struggling with growing your Instagram brand, this is a case study that will inspire you and show you that it is possible. And Brie's strategy is a very good way to achieve it.
Read The Go Rattle The Stars Case Study Here
Case Study #4: Neil Patel Of QuickSprout – A Daily Routine To Build A 25,000 Following
I love Neil's case studies on his blog because he is always one for experimenting. That means his case study is full of data to back up everything he is saying. One of the reasons I love this case study is that he offers a set of tasks that you can do on a daily basis to grow your Instagram account. That's very useful because half the challenge with Instagram is just being consistent and keeping a daily presence on the platform. Once you do that, your account will grow by itself.
Neil also provides an up-to-date list of tools you can use to manage your Instagram account. His own tool, Sprout Social, makes it onto that list, of course. But there are many other recommendations worth reading. I think premium or free tools are vital for Instagram and any social media platform. It's not realistic to try and grow an account at a decent rate when you are trying to do everything manually. You need tools to keep things organized – plus, they'll give you valuable analytics data you'll need to figure out the opportunities and weaknesses in your Instagram growth strategy.
Speaking of analytics, Neil also talks about the right time to post on Instagram. He'll explain how to monitor this data so you can capture your audience at the best possible moment. I think the way Instagram's algorithm works means it's one of the most critical platforms for post timing, unlike, say, Pinterest. You not only need to get the perfect time in terms of when your audience is on the platform, but you need to get them at a time when they are engaged and likely to comment and like your posts.
Read Neil's Case Study on QuickSprout
Case Study #5: Elizabeth Pittis / A2 the Dog – 14 Day Case Study Starting With 0 Followers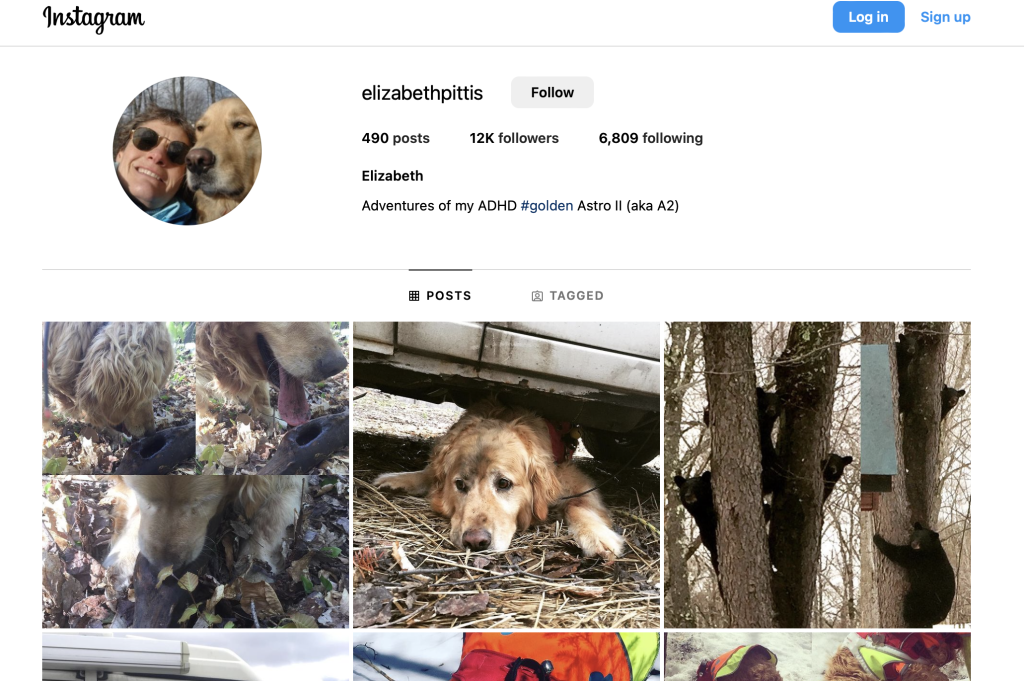 Its no surprise one of the case studies on this article features our favorite four-legged friends. Animal accounts always do well on social media, and this 14 day case study of an account featuring a dog called A2 is an excellent example of what to do in the first two weeks if you are starting a brand new Instagram account.
The account is owned by Elizabeth Pittis, but the case study is featured on a website called Need Growth. What I like about this case study is in the in-depth method explained here about how to effectively use hashtags in your Instagram account. Hashtags are incredibly important for new accounts because you don't have an audience, so you need people to find you via a hashtag instead.
This case study is an interesting one from that point of view because although dogs might be a popular topic on Instagram, it's also highly competitive and quite a narrow topic in terms of brainstorming the type of content you should feature. The team at Need Growth managed to get her account ranking on some highly competitive hashtags, despite that fact she had no following and was brand new. It goes to show that you don't need a massive following and an old account to get ranked, providing your content and your Instagram strategy is sound. To prove that point, they managed to get Elizabeth's post ahead of Paris Hilton!
This post also has some useful tips on how to use commenting to boost your engagement. Remember that with any Instagram strategy, you've got two broad goals – reach and engagement. One without the other will mean an Instagram account that falls flat. Commenting is all about improving your engagement and getting a loyal dedicated following up always views your posts, clicks the like button, and adds a comment.
Read The Case Study On Need Growth Here
Case Study #6: MarketFeed – 7k Instagram Growth In 90 Days
A 7k growth feels like less of a headline than some in the list, but that shouldn't put you off. 7k is no small feat, and what's most useful about this case study is that it's one of the most recent ones on this list. After all, we aren't in 2014 anymore where Instagram was a different platform altogether and growing a six-figure following was doable at a time when the IG algorithm was still pretty basic.
Marketfeed is in the finance field. Finance is another example of a highly competitive niche on Instagram. There are lots of finance, money, crypto and stock market accounts and the top ones always go for a highly agressive growth strategy on Instagram, which means getting large follower numbers isn't always so easy. So it's impressive that Blusteak managed it with this client. They had a smart way of doing this using FOMO (fear of missing out), so read that part of the case study to learn more about how that worked.
They also have some interesting tips to share on how to use visual content to grow. It's not always easy to undersetand what images will bring you the best results. If you don't believe me, browse any page of a stock image website and see if you can determine which image would get the best engagement on Instagram. You might have a personal preference, or you might single a picture out because of an interesting object or color, but in reality, you just can't use guess work for these things. You need to get that experience in Instagram to get that perfect balance of quality content, visual appeal, and savvy engagement techniques.
Read Blusteak's Case Study Here
Case Study #7: Jan Orsula, Weekhack – 50,000+ Followers In 8 Months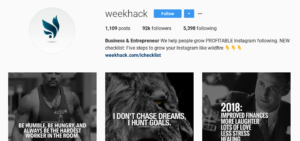 My last recommended case study on attracting real Instagram followers is from Jan on Weekhack. It includes a list of action steps you can take on a regular basis to help you adopt strategy. (I personally find action steps are a great way to digest this advice when I'm reading case studies, as they can be overwhelming the first time you read them). This is a good case study to read if you're currently building your list, as it goes into detail on how to do this using Instagram (the results are pretty impressive, too).
I also like some of the promotional images she's showcased in this article. The promotional post to register for a course creator's video workshop looks really professional, and you could easily turn that post into a paid ad if you wanted to boost your reach. It's useful to practice some design techniques when putting together promotional content like this so that it stands out in the feed. If you can get that right, it wlil have a hugely positive impact on your email list growth.
Read Jan's Instagram Case Study Here
Some Top Takeaway Tips
The danger of creating a big list of case studies is that you can quickly become overwhelmed by a massive list of recommendations. Or, you'll have one recommendation from an expert and another from someone else providing the opposite advice. It happens sometimes because social media changes all the time, and these case studies were written in different years. Anyway, to help master the key points in these case studies, I have some takeaway tips here for you. Or if you scanned the article up until now, this is the bit to read.
Tip 1: There Is More Than One Way to Create Content
Growing an Instagram following takes time and effort. What you'll find when reading these case studies is that content creation is central. Yet don't overlook other ways to populate your account, like trying user-generated content via a competition, for example. It's also a good idea to use this method when you want to improve your brand awareness.
Tip 2: Engage With Your Followers Actively
If you want to grow a genuine and dedicated following, interaction is the key to getting engagement. Responding to comments, liking user posts, and even hosting Q&A sessions can make followers feel valued and connected. It's not just about gaining numbers; it's about creating a community. Remember to be a user of the platform as well as a content creator.
Tip 3: Don't Forget About Your Instagram Bio
First impressions count, and that's the first thing people will see when they go to your Instagram page. You need an Instagram bio that not only gets Instagram users' following but also gets them to click your bio link. Remember – you are targeting real people, not bots clicking likes, so you need words that resonate with genuine followers. Remember to keep it professional, too. Business profiles aren't as light and airy or tongue-in-cheek as a personal profile might be.
Tip 4: Collaborate With Influencers or Other Brands
Finding someone in your niche with a larger or similar following and collaborating on content can introduce you to a broader audience. Whether it's a joint giveaway, a shared post, or even an Instagram takeover, collaborations can be a fresh way to increase visibility.
Tip 5: Remember to Build Your Profile on Other Social Networks
While you might not have an audience on some social media platforms, the most dedicated Instagram followers will look for you there. The most efficient content creators will repost their best images and videos to other platforms to help get an engagement boost and reach a wider audience.
Tip 6: Keep an Eye On Instagram Analytics
Understanding which posts resonate the most with your audience is invaluable. Regularly review your insights to see which content type, posting times, and hashtags work best. This data-driven approach ensures you're not shooting in the dark and can refine your strategy accordingly.
Tip 7: Live Video and Instagram Stories Are a Must Nowadays
If Instagram brings out new features, be an early adopter and use them on your feed. Video content, in particular, creates variety and interest, and you'll attract different types of followers and new audiences, which is always useful.
Tip 8: Use Relevant Hashtags
You need a proper hashtag strategy to grow your reach on Instagram and niche hashtags is the easiest way to quickly boost your reach with a new post. Never leave it to the last minute to brainstorm a couple of hashtags. Research the popular and on-trend hashtags that will ensure your target followers find your content.
Tip 9: Create Shareable Content
Whether it's infographics, quotes, or engaging visuals, when your followers share your content, it introduces your profile to their network. Craft posts that not only resonate with your current followers but also encourage them to share with others.
Tip 10: Always Use a Good Scheduling Tool
As far as best practices go, this is right at the top of your list. It means Instagram marketing becomes an organized and central part of your business, instead of a haphazard "I forgot to post on Instagram today" approach to your business promotions.
Tip 11: Host Engaging Giveaways or Contests
This can be a fun and interactive way to get attention on the platform. Ensure that the mechanics are simple, prizes are appealing, and it's relevant to your brand. It's a fast track to getting your content shared and driving traffic to your profile.
Tip 12: Stay Updated on Instagram's Algorithm
Instagram is continually evolving, and what worked last year might not work now. By understanding how the algorithm functions, you can tailor your content and engagement strategy to stay ahead of the curve, ensuring maximum visibility and growth.
Bonus Case Study #8: My Case Study – 3000+ Instagram Following From Scratch In 6 Weeks
Well, I had to cheekily squeeze in my own case study here, didn't I? I actually ran my own Instagram experience. I grew a new account from scratch. It isn't my main account; it was a dedicated Instagram profile that promoted a single affiliate product. In the case study, I go through all my results (including the earnings I made on affiliate sales) during those 6 weeks, as well as the steps I took to get there, such as the best time to pots. This was my first real attempt with Instagram, and I was blown away with the results I managed in such a short space of time. I personally think there's a lot of useful information here, but of course, you can judge for yourself. It's also available for a PDF download, so you can grab it now and read it later (useful if you're anything like me and rarely have time to read all the business articles you want to read and then forget to read them later).
Read My Instagram Case Study Here
Extra Bonus #9: How to Build Your First Sales Funnel
Once you have a fantastic Instagram feed up and running, now's the time to start thinking about growing a high-quality following and start making sales for your business. You can access our free Smart Funnel guide by entering your email address below and discover how to create your first sales funnel for your small business.
What To Read Next
Read about my 5 favorite methods for marketing on Instagram
New to Instagram? Grab my simple guide on setting up the perfect Instagram profile
Pin This Post To Read It Later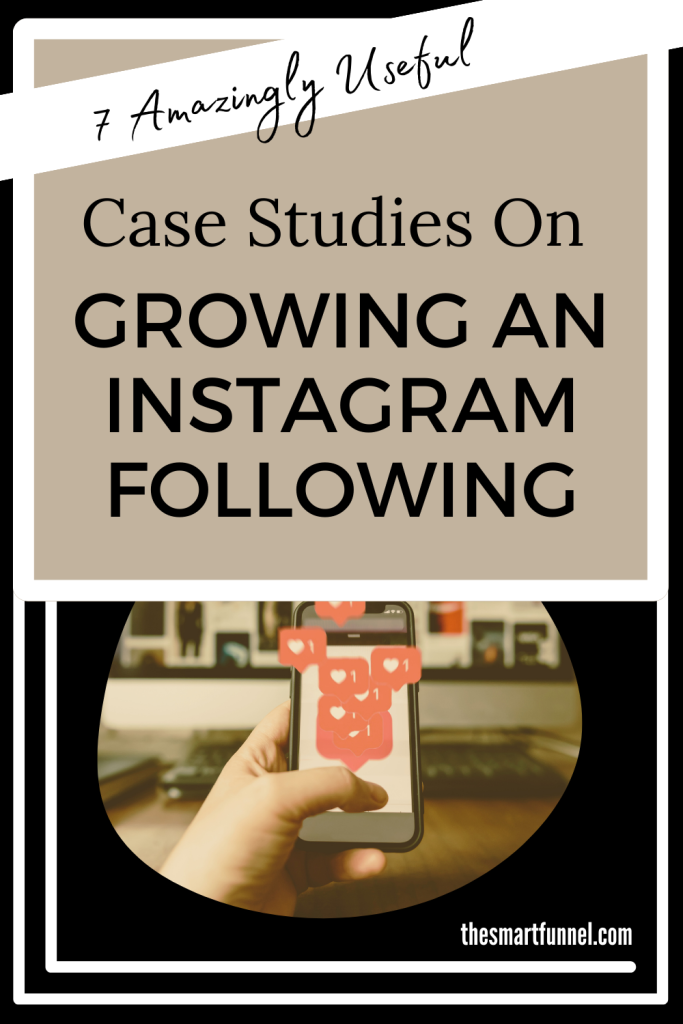 Summary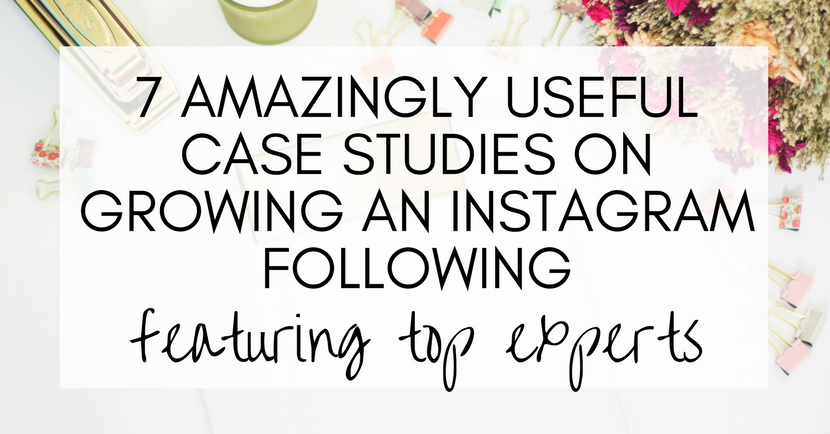 Article Name
7 Amazingly Useful Case Studies On Growing An Instagram Following
Description
In this blog post, I want to share with you my 9 favorite case studies on the web for growing a large, loyal Instagram following for your online business
Author