One of the biggest growth areas on Instagram in the last few years has been stories. They've taken off to such an extent that Instagram is now increasing how they feature on the platform, and today you can even create an Instagram story ad placement. Nevertheless, if you're using the app to promote your business it can be a challenge trying to think up some interesting Instagram story ideas that will engage your audience and help increase your reach.
Part of the issue is that stories are so new, there isn't really a huge amount of rules and best practice when it comes to using them for business. In addition, there isn't an awful lot of analytics out there to measure how well they perform. Many casual users tend to use stories in fun and informal ways, which don't always translate well for a business brand (or at least, it's hard converting that idea into a more business use without it coming off as either cringy-inducing or inappropriate).
What can you do? Well, I've done my own research. After scanning through hundreds of stories trying to sift through some of the best ideas, I have put together what I think are 5 great ways a business can use stories to promote their account – and still stay in line with their brand and their core business objectives.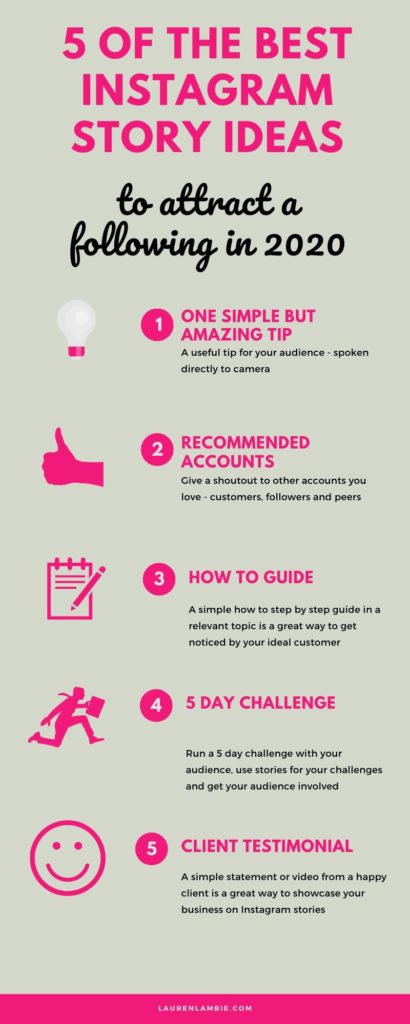 Idea #1: One Simple But Amazing Tip – Spoken Directly To Camera
Talking directly to the camera works great on Instagram, and it's a fantastic way to engage your audience.
Instagram stories are typically 15 seconds in length. However, you can make them longer using a simple hack. There is a useful how-to guide in this post if you're interested.
However, I'd caution against overusing the camera, especially for long dialogues. Unless you're a celebrity or a big brand with slick production, you'll find it hard keeping your audience listening for that length of time. That can hurt you on Instagram. The platform always pays attention to things like engagement, and how long someone is consuming your content.
Since your overall goal should be to keep your audience's attention, one great way to do that is to use very short video clips where you share with your audience one small but incredibly amazing tip or insight. It's got to really be an "ah-ha" moment for people when they hear it. For example, Derek Halpern from Social Triggers has that great piece of advice about promoting your content (80/20 rule – 80% promotion 20% production). That's so simple that it can be explained in 15 seconds, but for any online blogger or small business owner it's an incredibly useful business tidbit. That's the type of value you should be aiming towards (if you're wondering how you'll be able to pull together so much amazing content, remember: quality over quantity).
The biggest benefit to doing this is because it will immediately associate you with high quality and value as soon as anyone watches that story, and you'll be a must-follow account for them. Here are some ideas to get you started:
For product businesses: Demonstrate an unusual feature about a product, a little known fact about the product origin, alternative uses for that product, a unique way to wear that product (if your product happens to be clothes or jewellery).
For service businesses: A unique way you work with your customers, a helpful tip or shortcut for your target audience, a tool you recommend, a quick fix to a common problem.
Idea #2: Recommendation Shoutout – Themed And Branded
It's easy to brainstorm Instagram story ideas by asking yourself: how can I use this to promote my business? Take a step back and ask this alternative question: how can I promote others? As with so many other things in life, often the best rewards are to be found not by helping yourself but by helping others. Think about how you can use stories to help reach out to others. Allow their voices to be heard.
Make it themed and branded. For example, you could create a theme called My Monday Mentions. Use it as a weekly story. Feature 5 recommended accounts and promote your peers, your customers, or even your competitors (never forget that great quote: a rising tide lifts all boats). This type of content is perfect for helping you to broaden the reach of your account and get engagement from other influencers. People will be flattered to be featured in your story. As your account grows in popularity, so will people's awareness of this branded story.
This is also a really easy story to create. You just need 5 images with 5 recommendations and group them together (if you want it to look ultra professional, I'd highly recommend PlaceIT). So for 5 minutes of your time, you can get a huge amount of goodwill, engagement and interaction on your account.
Idea #3: A how-to, demonstration, or step by step guide
How-to guides are always popular with any audience on many platforms. You have a great opportunity to create some great step by step content using Instagram stories. This doesn't have to be fancy. You can create a quick video, time-lapsed to physically show something like a recipe, craft or showcasing a physical product that you sell. The best thing about this type of content is that you can reuse it on other platforms. For example, it will work great in a blog post.
If you don't have content that will suit this sort of video format, you can still make great use of this type of content. Try a 5-6 slide step by step guide on a valuable topic you can share with your audience. For example, if you are a graphics designer you could do a little guide on how to pair fonts together.
As with the other ideas I've gone through, prioritise how much value you are giving to your audience and make them relevant. And don't forget to include that all-important call to action to get people to follow you after they've viewed your story.
Don't forget about the look and feel with these types of stories. You want to avoid the stories appearing clunky as the viewer goes through the steps. Use good graphics, fonts and color to get a seamless feel to the story. This is the sort of detail that's important to take time with when using stories for business rather than personal use, particularly if you want to reuse that content elsewhere.
Idea #4: Week-long challenge – one story per day – for 5 days
I've spoken before about how great challenges are at engaging an audience and in particular for growing an email list. This is a fantastic option for service businesses, and if you market it correctly, it will help your account get a lot of engagement from the right audience.
Set up a 5-day challenge for your Instagram audience, with the main challenge content each day delivered via a story. There are plenty of ideas you can come up with for this type of content depending on what type of business you have. Do make sure it's something that can honestly be achieved in 5 days. And do make sure it is highly relevant to your audience. For example, if you are a health coach you might choose something like a 5-day sugar-free challenge.
The beauty of this content is that it gets people returning to your account each day. When it comes to Instagram, that pesky algorithm is going to see you as a high performing account. That, in turn, will help the algorithm decide that you should have better exposure on the platform in future.
To make the most of this strategy, allow time before the challenge starts to market the idea. Keep publishing the start date on social media to remind your audience when the challenge is going to launch. If you have an email list, I'd highly recommend you also heavily promote it to your subscribers and get them to join in too. This will really boost your audience and get a buzz going about it.
Idea#5: Testimonial from a customer
Testimonials are a great option for service and product businesses. A good testimonial is one of the fastest and most effective ways to win a new customer. And the beauty of this type of story is that it can look incredibly simple. Just a simple quote showcased in a story, or a very short testimonial video. And yet, that testimonial is going to be incredibly powerful.
If you are product business, consider having videos of people holding and talking about your product for maximum effect. If you are a service-based business then videos are fantastic if you can get them. Equally great is a simple, short paragraph from a customer.
Don't forget before-and-afters for testimonials. If you can showcase an actual result rather than a customer quote, you are demonstrating proof. That's really going to help boost your sales.
As with the other stories we've mentioned, always finish with a call to action. This is especially important for a testimonial which can easily result in a new sale. After you've presented the testimonial, remind the viewer to swipe up to learn more / buy now (if you have 10k+ followers which you need for the swipe up feature) or click the link in your profile to learn more / buy now.
Your Turn – What Is Your Favourite Instagram Story Idea?
Any story ideas you think should have made it to this list? Have you tried any of these stories and have results to share? Tell me in the comments below.
Now It's Time To Sort Your Sales Funnel
And there is good news – we have just the thing to help you get started. Download our free quick-start sales funnel guide now using the form below.
Found This Post Useful? Don't Forget To Pin It So You Can Refer Back To It Later: