Dare to imagine a new world, one in which your marketing takes care of itself, running with the same efficiency as a car on auto drive. This future is not so far away. With AI tools appearing on the market, you have a chance to transform your marketing efforts and build high-converting product descriptions. One application is how you can use tools to improve your sales pages and convert more customers. In this article, we'll look specifically at using tools to create punchy and powerful product descriptions.
Disclosure: This is a sponsored post, and I received a small fee for the creation. It also contains affiliate links, which means I will receive a small commission, at no cost to you, if you make a purchase through a link. For more information on how I use these on my website, visit my disclaimer here
Product Descriptions: A Key Part of Your Marketing Efforts
If you are selling packaged services for your social media business, you'll need product descriptions. These are more than what they seem on the surface. Far from being information write-ups, they are a strategic element in your marketing. You could say that product descriptions are akin to a silent salesperson on your website. They showcase why your products matter to your customers. Plus, they offer the chance to connect with customers. An effective description taps into their needs and wants. And it will help that potential customer align those needs with the package you have to offer. The best product descriptions pique interest, build trust, and convert traffic into sales.
Creating Effective Service Product Offers for Social Media Services and Consultancy
Creating effective product offers for social media services isn't a one-size-fits-all solution. You need to start by defining the unique aspects of your service. In other words, how you differentiate yourself from other social media managers. You'll also need to make it clear what people get in that packaged service and what they won't get. It must be compelling. The service needs to grab attention and be tempting enough that the reader is left wondering: "Can I really run my business without this service?" Once you have this concept, you have the challenge of turning that into your written product description.
Why Effective Copywriting Matters in Product Descriptions
The virtual marketplace of services is a bustling, busy place with plenty of competing offers. Effective copywriting gives you an important advantage. It's a marketing narrative and spells out your unique selling proposition in clear, concise words. Good copywriting illuminates your service and brings it to life. It tells a story about the value of what you do, unravels the complexity of your service, and makes the whole experience sound exciting. It's almost an art form. Good copywriting is a make-or-break element of a sales page, and with a perfect pitch, you'll boost your conversion rates. In short, invest time and effort into your product descriptions, and you'll reap the rewards in your revenue statistics.
Tailwind's Ghostwriter: Your Product Description Ally
A secret weapon in product descriptions could help you gain that all-important advantage. That's Tailwind's Ghostwriter. This innovative AI-powered tool can take the guesswork out of copywriting, allowing you to craft and publish your product descriptions in minutes. The tool will help you translate features into benefits. And in turn, you can weave compelling narratives that connect directly with your customers' needs. Here is an example of this in action. In this example, I've created a product listing for social media templates – something that's a common low-priced product for social media managers. This example is targeted at selling the templates on Etsy, and I've narrowed the niche to Pinterest templates. The first screenshot is an illustration of how you'd create this product description. And in the second image is the results provided in Tailwind. As you can see, it includes an optimized title and title tags, both of which help boost your Etsy template listing and get highly ranked on the search results pages.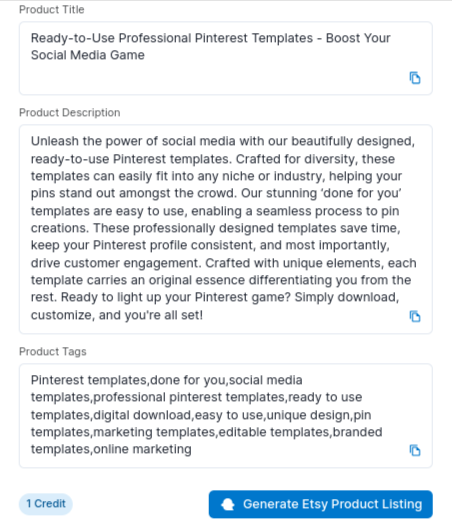 From a conversion standpoint, this is hugely beneficial. It means you can A/B test different product descriptions quickly and find a winning formula. Plus, the advanced technology allows you to produce beautifully written copy without needing years of sales writing experience. This tool is a smart way to streamline your sales and marketing efforts, and with some testing, you'll be able to see real results in your order book.
Sales Copywriting: A Glimpse Into the Future
The advent of AI-powered tools like Ghostwriter offers a glance into the future of marketing. It's one that cleverly combines technology with creativity whilst streamlining your business processes. It means you can progress key aspects of your business in a matter of weeks rather than months. So it's smart to include these sorts of tools as part of your strategic marketing efforts.
Now that you understand how to create product descriptions, start implementing this strategy. And if you haven't yet set up your sales funnel, download our free guide now below for our easy-to-follow steps on getting your first funnel up and running.
If you found this post valuable, don't forget to pin the graphic below to share with friends!
Pin This Post