Are you looking for an easy way to generate leads and get more traffic to your sales funnel? Read on to find out how to create website content that will amplify your sales funnel and increase engagement with potential customers.
Disclosure: This is a sponsored post, and I received a small fee for the creation. It also contains affiliate links, which means I may receive a small commission, at no cost to you, if you make a purchase through a link. For more information on how I use these on my website, visit my disclaimer here
The Benefits of Creating Website Content for Your Sales Funnel
Do you need web content to generate traffic to your funnel? After all, if you have a working and profitable funnel, isn't it easier and quicker to simply run ads? While ads are great, content has its plus points. Here are some of the main benefits.
Build Trust: Creating content for your website that is informative and helpful to your target audience will help build trust and credibility. Share useful tips and advice, give customers a peek "behind the scenes" at your business, or tell them about upcoming promotions.
Establish Expertise: You establish your company as a thought leader and expert by providing helpful information about your industry or product. This will boost customer loyalty and trust.
Generate Inbound Leads: Creating website content, such as blog posts, newsletters, white papers, e-books, etc., relevant to your target audience will help draw in potential customers to your lead magnet.
Set Yourself Apart From the Competition: By providing helpful content and unique insights into your industry or niche, you are setting yourself apart from the competition and establishing yourself as an industry leader.
Increase Conversion Rates: Creating website content that provides valuable information and answers to common questions can help boost conversion rates. When customers trust you, they are more likely to make a purchase.
Increase Organic Traffic: Optimizing your website content for search engine indexing can increase organic traffic from potential customers searching for your business or product information.
Planning Your Content Creation
Most people assume creating content take the most time. But as we'll explain in the next section, that's not the case. In fact, if you want to make an impact with your content, most of the effort should come in planning it. Here are three steps to planning the perfect content for your sales funnel.
Identify the target market: Who is the ideal customer for the product you're trying to sell? What challenges or pains are they facing? Understanding your target market will help you create content that resonates with them.
Analyze the competition: Who are the key competitors for the product you're trying to sell? What content are they creating that resonates with their target market? Consider the successful strategies they're using and what you can do better.
Develop a content strategy: Based on your analysis of the target market and competition, develop a content strategy that will help drive traffic to your sales funnel. Make sure your content resonates with your target market and is designed to get people to take a desired action. We use a tool called Tailwind Ghostwriter to do this. Tailwind is a multi-network solution that offers a forever free plan for creators. For our team, the ghostwriting functionality allows us to come up with content ideas for a post. Here's an example of the Tailwind Ghostwriter in action after we asked it to produce some content ideas on the topic of sales funnels: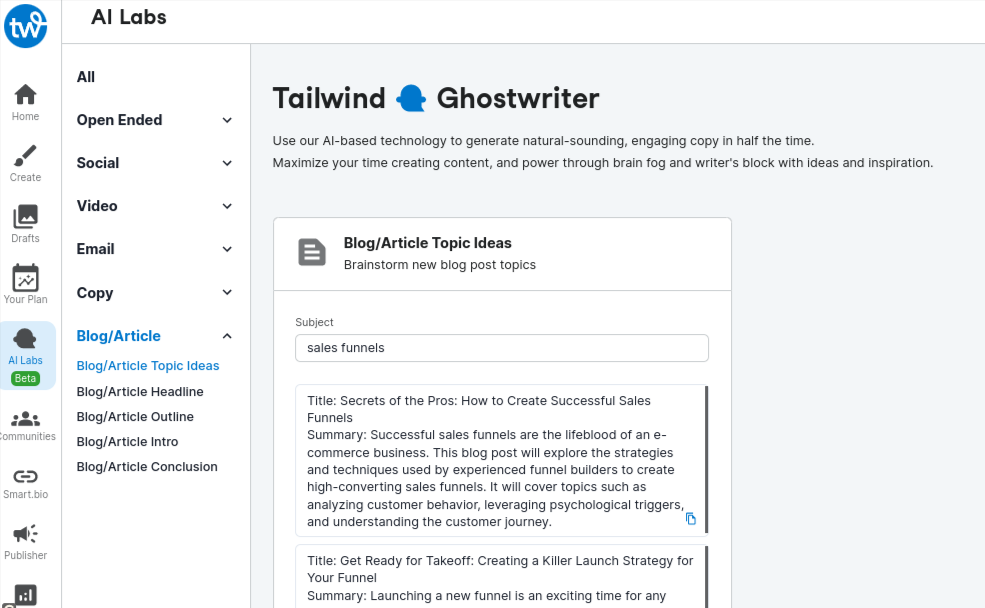 Using Smart Tools To Speed Up the Process
Tailwind Ghostwriter is a natural fit for rapid content writing that you need to generate traffic to your sales funnel.
Once you have your content ideas, Tailwind Ghostwriter helps you to turn this into tailored, relevant content. You can, for example, generate titles and sub-heading for your chosen topic. Here's a screenshot to show this in action.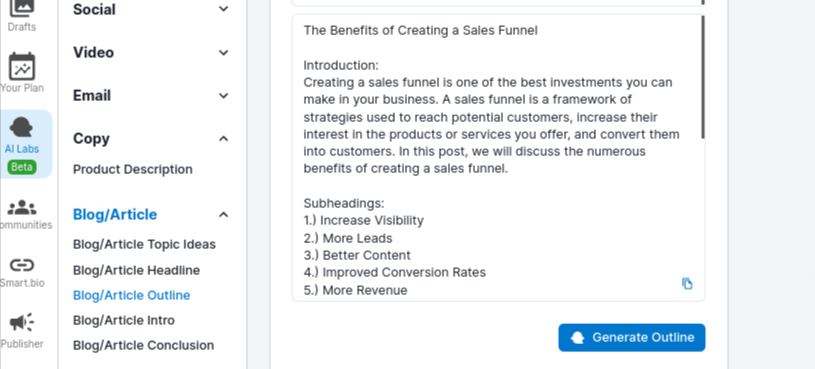 This step helps ensure that your blog posts are tailored to your website's target audience, resulting in higher engagement and more clicks. It also helps you quickly customize the content to make it more relatable to your readers. When content is more relatable, your audience will likely take that next step in your sales funnel by signing up for your lead magnet.
Traffic-wise, you'll also get an SEO boost as you can optimize the content for specific keywords. SEO is great for sales funnels because you're getting an audience who have already started researching a topic, so offering them a blog post plus a lead magnet is a natural progression.
Most importantly, fast content creation is what you need to attract, optimize and refine your traffic generation efforts. You need to adapt quickly when things don't work and maximize success when something does perform well. Regular content creation increases your odds of success dramatically.
Tips for Writing Compelling Content
What else can you do to ensure you always have fantastic, fresh content to share with your audience? Here are some ideas.
Leverage Existing Content
If you've had a website for a while, chances are there will be some old blog posts that aren't getting much traffic. But these aren't wasted. Here are three ways to leverage existing content:
Reframe: Reframe the existing content you've identified in a new way. Take a unique angle or tweak the existing content to make it unique and relevant to your blog post and website.
Repurpose: Repurpose the existing content and use it as the basis for your blog post. Weave parts of existing content into your blog post, using your voice to add value and originality.
Use Multiple Formats: Use multiple formats, such as audio, video, text, and images, to deliver the content differently. Consider how each format can be used to enhance the content delivery.
Optimize for Search Engines
Give your content multiple chances to reach the top of a Google search results page. Here are some simple ways you can improve your SEO:
Keep it focused: Ensure your website content focuses on one topic or keyword. This will make it easier for search engines to determine the relevance of your page.
Use Keywords Strategically: Identify the keywords related to your topic and use them throughout your page. This will increase the chances of appearing in search engine results.
Optimize Site Structure: Make sure your website is organized to make it easy for search engines to crawl and index it.
Create Fresh Content: Create fresh and relevant content for your website regularly. This will keep your website updated and help you rank higher in search engine results.
Focus on Quality: Make sure your content is well-written and helpful. Low-quality content can hurt your rankings in search engines.
Link Internally: Link to other pages on your website internally. This will make it easier for search engines to crawl your website and index the content.
Measure and Analyze Your Content
Finally, don't forget that the best way to improve your sales funnel performance is to measure it and narrow your strategy to the tactics that bring you the best results. The same rule goes for your content/ Use Google Analytics to track the performance of your posts. Write more on the topics that do well, and when content doesn't perform, review it to work out what you'd do differently next time.
Content Creation: The Essential Element of Any Successful Sales Funnel
Content creation is an essential element of a successful sales funnel. By taking the time to choose the right type of content, craft compelling copy, leverage existing content, optimize for search engines and measure the impact of your content, you can quickly create content to amplify your sales funnel and effectively engage with potential customers.
Now that you understand how to create content to amplify your sales funnel quickly, start implementing these strategies today. And if you haven't yet set up your sales funnel, download our free guide now for our easy-to-follow steps on getting your first funnel up and running.
If you found this post valuable, don't forget to pin the graphic below to share with friends!