If you want to promote your business on Instagram, you don't have to be boring about it and simple add another promotional post and point people towards your link. There are plenty of creative ways you can use Instagram to attract customers to your business. Here are just some examples of Instagram marketing strategies that businesses have tried on Instagram to inspire you.
Disclosure: This post contains affiliate links, which means I may receive a small commission, at no cost to you, if you make a purchase through a link. For more information on how I use these on my website, visit my disclaimer here
The Evolution of Instagram as a Marketing Tool
In its infancy, Instagram began as a simplistic photo-sharing app, giving users the ability to capture moments and share them with their circle. However, the platform has undergone significant evolution, positioning itself as not just a social media network, but a formidable business hub. Today, it stands as a cornerstone of many brands' digital marketing efforts, playing a pivotal role in reaching wider audiences and building brand awareness.
From Photo Sharing to Business Hub
The metamorphosis of Instagram into a robust marketing platform can be attributed to its adaptability and understanding of user needs. As businesses began to recognize its potential, Instagram responded with features tailored for commercial purposes. Instagram profiles evolved, allowing for business accounts that offered insights, ad capabilities, and the option to include contact information. This transition made it easier for potential customers and followers to interact with businesses directly, blurring the lines between social media platforms and direct consumer touchpoints.
The Rise of New Features
The real game-changers in Instagram's journey were its innovative features. IGTV, introduced as a platform for longer-form video content, gave brands the opportunity to engage their audience beyond the constraints of traditional Instagram posts. This became an excellent avenue for tutorials, interviews, and more in-depth brand stories. Following IGTV, Instagram Reels emerged, catering to the growing demand for short, engaging video content, offering brands a new way to creatively market their products and services.
The introduction of shoppable posts has perhaps been one of the most revolutionary features for businesses. By allowing users to purchase directly from posts, Instagram effectively transformed from a platform of inspiration to a direct sales channel. This streamlined shopping experience, bridging the gap between product discovery and purchase, offered businesses a powerful tool to drive sales.
Today, with its rich selection of features, Instagram offers businesses many ways to connect, engage, and convert their target market. Its evolution from a mere photo-sharing app to a marketing powerhouse is a testament to its adaptability and the ever-changing dynamics of social media marketing.
Spearmintbaby – shoppable posts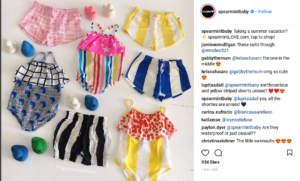 At the time of writing, not many companies have adopted the new feature that Instagram is rolling out, that allows people to buy direct from tagged posts on Instagram. Those that have been early adopters have seen great results. This company is one of many who have seen a direct increase in traffic as a result of adding shoppable product posts to Instagram.
How to Use This on Instagram
Embracing Instagram's new feature for shoppable posts is a transformative instagram marketing strategy. For businesses wanting to capture a wider audience, this feature simplifies the buying process. Instead of redirecting instagram users to a separate site (a common pain point on many social networks), they can directly purchase without leaving the platform. Though this tool holds much promise, its effectiveness is largely tied to the presentation. High-definition images, artistic arrangements, and engaging descriptions are essential. Especially for niches like home and fashion, it's about conveying the product's charm, functionality, and uniqueness.
Step-by-Step Guide
Preparation: Ensure high-resolution, clear photos of your products. If feasible, use a professional photographer for best results on your instagram feed.

Flat Lays: For niches like fashion, utilize flat lays. This kind of content is not only visually captivating but also offers context on its use or aesthetic appeal.

Tag Products: Use the feature to tag items within your instagram posts. Verify each tag redirects to the right product page, ensuring best practices for pricing and availability.

Compelling Descriptions: Draft a brief, yet catchy product description. Aim to pique interest and ignite an urge to buy among potential customers.

Engage and Update: Respond to inquiries promptly. Keep your product posts updated – this is key to maintaining brand awareness.

Promote: Contemplate using Instagram ads to further amplify your shoppable posts, especially for new products.
By implementing this method, you're not only leveraging Instagram's latest tools but also ensuring you're catering to your target audience in the most effective way.
Top takeaway tip: Use clear, high quality product photos. Flat lays work beautifully, and allow you to showcase a group of products together (great for home, furnishing, and fashion niches)
Bonus tip: If you are selling products or services directly on Instagram, this free webinar is a great starting point for helping you increase sales.
Zeek – Instagram Influencer marketing in action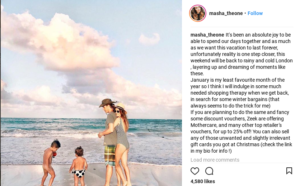 Zeek is an online marketplace selling unwanted gift vouchers. Relatively unknown, they ran a 2-week campaign before Christmas to increase awareness of their brand and did that by partnering with influencers and bloggers in the niches of parenting, fashion and beauty. They got these influencers to share their own experiences on Instagram of using Zeek to save money and sharing stories about some of the purchases they've made. Stories are great when it comes to engagement, and this tapped in well to Zeek's target audience.
How to Use This on Instagram
Zeek's campaign is a classic illustration of how cleverly devised Instagram strategies can boost brand awareness. Partnering with influencers, especially in niche categories, can be an invaluable tactic in today's digital marketing landscape. For a relatively unknown brand, leveraging the credibility and reach of influencers in specific niches like parenting, fashion, and beauty can quickly resonate with a target audience. Influencers sharing authentic experiences, particularly through Instagram stories, provide real-time testimonials. This not only helps in capturing the attention of potential customers but also fosters trust. The immediacy and personal touch of Instagram stories combined with the power of influencer marketing truly make it a great place for brands to share relatable content and connect with their audience.
Step-by-Step Guide
Identify Your Niche: First thing to do is understand which niches resonate with your brand. For Zeek, it was parenting, fashion, and beauty.

Find the Right Influencers: Use platforms like Publicfast to search for influencers that align perfectly with your target audience. Micro-influencers often have more engaged followers specific to certain niches.

Collaborate Authentically: Encourage influencers to share their genuine experiences, fostering authentic user-generated content.

Leverage Instagram Stories: Prompt influencers to share their journey or testimonials via Instagram stories. This form of visual content is dynamic and tends to garner higher engagement rates.

Monitor and Engage: Track the performance of the posts, respond to comments, and engage with the wider Instagram community to maximize brand awareness.

Evaluate and Iterate: Post-campaign, assess the results. Use Instagram insights to gauge success and refine future strategies.
By adopting such a hands-on approach, not only does a brand benefit from influencer reach, but also solidifies its image as a customer-centric entity on social media platforms.
Top takeaway tip: If you are going to use influencers, know your customers well. A micro-influencer perfectly in line with your target audience is far better than an influencer with hundreds of thousands of followers in a broader category.
Bonus tip: Publicfast is a great platform to search and connect with the top influencers in your niche.
Old Spice – User Generated Content (Dream Runner Campaign)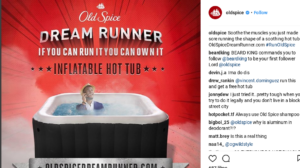 This is a fun campaign. It proves that you can be creative as you want when it comes to Instagram.
Old spice invited runners to post pictures of their running route, and they could win the object matching the shape of their route. Something fun and unusual is a great way to get people talking, get users commenting, and of course, they got quite a few unusual entries.
How to Use This on Instagram
Old Spice's "Dream Runner Campaign" stands as a shining example of how brands can harness creativity to foster user-generated content. Engaging your Instagram followers through innovative campaigns encourages them to become active participants in your brand's narrative. By employing a quirky concept like matching prizes to the shape of a runner's route, Old Spice effectively tapped into the playful side of social media platforms. It's not just about engagement, it's about creating memorable moments that users want to share, further increasing brand awareness. Encouraging your target audience to interact, post, and comment is a powerful tool in the realm of Instagram marketing strategies, making your Instagram page a hub for interaction and fun.
Step-by-Step Guide
Brainstorm Creatively: Think out of the box. Align your campaign concept with what might captivate your target audience and drive user-generated content.

Create a Catchy Hashtag: Design a memorable and fun hashtag for the campaign. Ensure it reflects the theme and encourages participation.

Promote Actively: Use Instagram posts, stories, and maybe even Instagram ads to amplify the campaign's reach. Highlight some of the best entries to motivate others.

Engage with Participants: Acknowledge entries, comment on the funniest or most unusual ones, and maintain a lively presence throughout the campaign to boost engagement rates.

Utilize Tools: Leverage tools like Tailwind to find the best hashtags relevant to your campaign and enhance your Instagram marketing efforts.

Celebrate Winners & Share Moments: Announce winners in a creative manner and share snippets of their joyful reactions. This is a great way to conclude the campaign and showcase its success.
Through campaigns like these, brands not only stimulate interaction but also cement their position as relatable entities that prioritize the happiness and engagement of their Instagram followers.
Top takeaway tip: Invent a fun hashtag and get your followers to post a picture using that hashtag. But do make sure it's relevant to your business, it's an easy picture for people to post, and the sort of content that people are likely to comment on.
Bloom & Wild – Instagram Stories – Showcasing Their Bouquets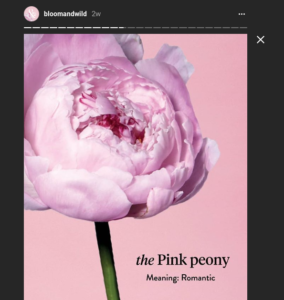 The online flower delivery company, Bloom & Wild's use of their bouquets, together with an individual picture and meaning behind every flower, makes a visually beautiful and fascinating story on Instagram. Actually, their stories are so stunningly gorgeous to look at I could have put a dozen screenshots on this blog post and your entire page would be filled with a rainbow of different flowers (but sadly, as pretty as that blog post would be, it's probably not so helpful as a marketing post).
How to Use This on Instagram
Bloom & Wild's strategy underscores the immense potential of Instagram stories in showcasing brand offerings in a unique and captivating manner. Their approach is not just about presenting flowers but weaving a narrative around each bouquet. By revealing the story and meaning behind every flower, they transform a simple product showcase into an engaging visual journey. This is an effective way to foster brand loyalty and appreciation, making the Instagram page not just a sales platform but a space of beauty and knowledge. The way they have utilized color is commendable and serves as a great example for brands looking for best ways to capture attention, enhance recall, and display their products on social media platforms.
Step-by-Step Guide
Storyboarding: Plan your Instagram stories meticulously. Think about the visual flow and the kind of content you want to deliver.

Highlight the Unique: Just like Bloom & Wild delved into the meaning behind each flower, consider what unique aspects about your products or services can be showcased.

Play with Colors: Use vibrant and consistent colors that resonate with your brand. Color not only beautifies but also creates a brand identity on your Instagram profile.

Use Templates: Employ tools like Canva to make use of professional templates. Customize them with your brand colors for consistency and a polished look.

Engage & Interact: Insert polls, questions, or clickable links in your stories for better results and engagement.

Analyze & Iterate: Post-campaign, turn to Instagram insights to assess story performance. Understand what works best and refine your strategy accordingly.
By marrying aesthetics with insightful content, brands can craft Instagram stories that are not just visually delightful but also deeply resonant with their target audience.
Top takeaway tip: Make great use of colour in your stories – as well as making your stories attractive, it also gives them shape and structure, and it's a great way to show off your brand and products.
Bonus tip: Try out some of the Instagram templates on Canva and edit them with your brand colors for a really professional finish.
National Geographic – International Women's Day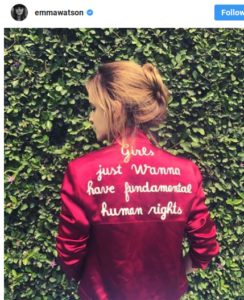 If it's appropriate for your brand, find a day in the calendar that celebrates your audience. Next, showcase that day in all it's glory using your Instagram account. National Geographic is an example of a big brand using this to great effect. They got Emma Watson to curate their Instagram feed for International Women's Day. Of course, not all of us have the ability to ring up a big celebrity. But you can still use this to great effect in your own business with an influencer in your field. Or even pass your account over to one of your non-marketing employees for the day.
Top takeaway tip: Make sure you choose a day that trends well on Instagram. And make sure it's appropriate to your brand and audience and something they will genuinely love. There is nothing more cringy than a brand trying to hop on to a trend just for the sake of a bit of free marketing.
Bonus tip: Want to know the most popular days and times for your posts? Iconosquare is the best analytics tool for Instagram.
Pacific Northwest Wonderland – time-limited giveaways
Pacific Northwest Wonderland ran short, small giveaways via Instagram Stories. This is a great way to keep your followers on their toes and stay engaged with your brand. Their followers had to keep an eye out for the latest offers and giveaways which would be launched via a story, with a link to a landing page.
How to Use This on Instagram
Pacific Northwest Wonderland cleverly tapped into the essence of Instagram's fleeting nature with their time-limited giveaways on Instagram Stories. Such campaigns cultivate anticipation, ensuring that followers regularly engage with your content, anticipating the next great opportunity. This technique transforms passive followers into active participants, making your Instagram account a hub of excitement. Short, surprise giveaways have the added advantage of maintaining sustained engagement, as followers would not want to miss out on a great deal or offer. If used with consistency and creativity, this strategy can turn a brand's Instagram page into an exciting platform, increasing both brand awareness and engagement rates.
Step-by-Step Guide
Plan the Surprise: Decide on the frequency and type of giveaways. Ensure they align with your brand and appeal to your target audience.

Promote Ahead: Use Instagram posts and stories to create buzz. Tease the upcoming giveaways without revealing too much to keep the suspense alive.

Unique Hashtags: Design unique and catchy hashtags for each giveaway. This not only creates an identity for the campaign but also facilitates easy search results for participants.

Use Clear CTAs: Direct followers with a clear call to action. For instance, "Swipe up to enter!" or "Click the link in bio!"

Utilize Tools: Shortstack is a powerful tool for creating landing pages for giveaways. Use it to ensure a seamless experience for your participants.

Follow-Up: After the giveaway, acknowledge winners, share their reactions if possible, and maybe provide a sneak peek into the next exciting event.
Brands can significantly amplify their reach and engagement by leveraging such strategies, turning simple giveaways into powerful marketing efforts on Instagram.
Top takeaway tip: Make sure you have clear messages in the run up to the giveaway. Get as much noise about it as possible before the actual launch. And of course, use great, unique hashtags to make it easy for people to find it
Bonus tip: If you are going to run a giveaway, Shortstack is, by far, the best tool for quickly producing high quality giveaway pages.
Fundamentals of a Successful Instagram Marketing Strategy
As businesses around the world increasingly turn to Instagram to bolster their online presence, understanding the intricacies of a successful Instagram marketing strategy becomes paramount. At its core, Instagram marketing is not just about posting pictures; it's a nuanced dance of connecting, understanding, and engaging with your audience. Here are some foundational elements to consider:
Understanding Your Audience
Every successful marketing endeavor begins with a comprehensive understanding of one's audience, and Instagram is no exception. Before diving into content creation and engagement strategies, it's crucial to identify and understand who your target audience is. This involves researching their demographics, interests, behaviors, and online activity patterns.
With Instagram's vast user base, encompassing a diverse range of ages, interests, and behaviors, it's possible to cater to nearly any target market. Using tools like Instagram Insights can provide valuable data about your followers. It can reveal when your audience is most active, which content resonates with them, and even demographic information like age, gender, and location.
More than just demographics, understanding your audience's preferences, pain points, aspirations, and behaviors can guide the type of content you create and how you interact. Knowing the best times they're active ensures that your content doesn't get lost in the vast sea of Instagram posts and has the best chance of capturing attention.
Creating Quality Content
At its heart, Instagram is a visual platform. As such, the visual quality of your content is paramount. High-quality images that are sharp, well-composed, and aesthetically pleasing naturally draw more attention and engagement. But beyond the visual, the content must be valuable and relevant to your audience. This can be in the form of product showcases, behind-the-scenes glimpses, tutorials, or any content that aligns with your brand and audience interests.
Captions, often overlooked, play a pivotal role. A well-crafted caption can contextualize an image, invoke emotions, or inspire actions. It's a space to infuse brand personality, share stories, or provide essential information.
Diversifying your content is also essential. While regular posts form the backbone of your Instagram feed, stories offer a more ephemeral and interactive way to engage followers. Features like polls, questions, and countdowns in stories can make content more interactive. Meanwhile, longer-form video content on IGTV or short, snappy videos on Instagram Reels can cater to varied audience preferences, ensuring your brand remains versatile and engaging.
Engagement is Key
Content is essential, but without engagement, it's like shouting into a void. Engagement is the lifeblood of any successful Instagram strategy. It's not enough to post regularly; businesses need to interact with their followers actively. This can be in the form of responding to comments, engaging with other accounts, or even hosting live video sessions where followers can interact in real-time.
Tools like polls or question stickers in stories can drive user interaction, providing businesses with invaluable feedback while making followers feel involved and valued. Direct messages, often underutilized, offer a more personal avenue for engagement, allowing businesses to build deeper connections with their audience.
Furthermore, engagement isn't a one-time effort. Regularly engaging and fostering a sense of community can turn passive followers into brand ambassadors, amplifying your brand's reach and credibility.
In conclusion, while Instagram offers an array of tools and features to aid businesses in their marketing efforts, success ultimately hinges on understanding your audience, creating resonant content, and fostering genuine engagement. In a digital age defined by fleeting attention spans, a well-thought-out and executed Instagram marketing strategy can make the difference between blending in and standing out.
Measuring and Adapting: The Role of Analytics in Instagram Marketing
Instagram marketing, as dynamic and engaging as it is, requires consistent evaluation and iteration. Without measuring the impact of your efforts, it's challenging to determine if your strategy aligns with your goals. As the saying goes, "What gets measured gets managed." Analytics, therefore, play an indispensable role in shaping and refining your Instagram marketing endeavors.
Why Analytics Matter
Every post, story, ad, or interaction on Instagram leaves behind a digital footprint. These digital traces, when aggregated and analyzed, provide a clear picture of your marketing performance. They can highlight what's working, what's not, and where there's room for improvement. But beyond mere numbers, analytics can offer insights into audience behavior, preferences, and engagement patterns, allowing for a more personalized and effective marketing approach.
Key Metrics to Monitor
Several metrics can provide insights into your Instagram marketing performance. Some of the critical ones include:
Engagement Rate: This reveals how actively users interact with your content. A high engagement rate can be indicative of resonant content.

Reach and Impressions: While reach shows the total number of unique users who viewed your content, impressions indicate the number of times your content was displayed, regardless of clicks.

Follower Growth: A steady increase in followers can be a good sign, but it's essential to ensure that these followers align with your target audience.

Click-through Rate (CTR): Especially important for ads, CTR shows the percentage of users who clicked on a specific link compared to the total who viewed your ad or post.
Tools for Enhanced Instagram Analytics
While Instagram Insights provides a comprehensive overview of your account's performance, several third-party tools can offer deeper insights and more extensive data visualization. When considering tools, especially for bloggers, it's a good idea to choose those with affiliate programs, allowing you to earn while you promote them. Here are some tools with strong affiliate programs:
Tailwind: Primarily known for Pinterest, Tailwind also offers detailed analytics for Instagram. Their visual reports and insights can help fine-tune your strategy. Their affiliate program offers bloggers a recurring commission, making it a lucrative option.

Later: Later is not just a scheduling tool; it provides valuable insights into your best posting times, audience engagement, and more. They have an affiliate program that provides bloggers with monetary rewards for referrals.

Iconosquare: Offering in-depth analytics, Iconosquare helps brands and marketers track their performance, monitor competitors, and understand their audience. They also have a rewarding affiliate program for those interested in promoting their tool.

SEMrush: While SEMrush is primarily known for SEO, their social media toolkit provides robust analytics for Instagram and other platforms. Their affiliate program, BeRush, is well-known for its high commission rates.
Adapting Based on Insights
With data in hand, the next step is adaptation. Numbers and graphs provide a clear direction. If certain content types consistently perform well, it's worth investing more in them. If posting at specific times yields better engagement, adjust your content calendar accordingly. Analytics should inform every aspect of your strategy, from content creation to engagement tactics.
Remember, while tools and metrics provide direction, it's essential to keep the human element at the forefront. Data can show patterns, but understanding the why behind those patterns requires empathy, intuition, and a genuine understanding of your audience.
In Instagram marketing, analytics serve as the compass, guiding brands towards more meaningful interactions, deeper engagements, and ultimately, marketing success. By leveraging the right tools and consistently adapting to insights, brands and marketers can harness the full power of Instagram to achieve their business goals.
Wrapping Up: Six Instagram Marketing Strategies to Inspire
Altogether, I'm sure you'll agree, 6 very different Instagram marketing strategies from 6 very different businesses. But I hope it's at least given you some ideas as to what you can do for your next promotion. The theme running through all these campaigns is engagement. Successful promotion on Instagram is all about making the effort to get your followers involved. Get them learning about, and interacting with, your brand. If you can do that, and make it fun, meaningful or just really unique, you might be on to a winner.
Bonus Tip – How to Build Your First Sales Funnel
Once you have a fantastic Instagram feed up and running, now's the time to start thinking about growing a high quality following and start making sales for your business. You can access our free Smart Funnel guide by entering your email address below, and discover how to create your first sales funnel for your small business.
What To Read Next
Get inspired with this list of 11 types of content that work great on Instagram 
7 must-read case studies for growing a large Instagram following
Pin This Post to Read Later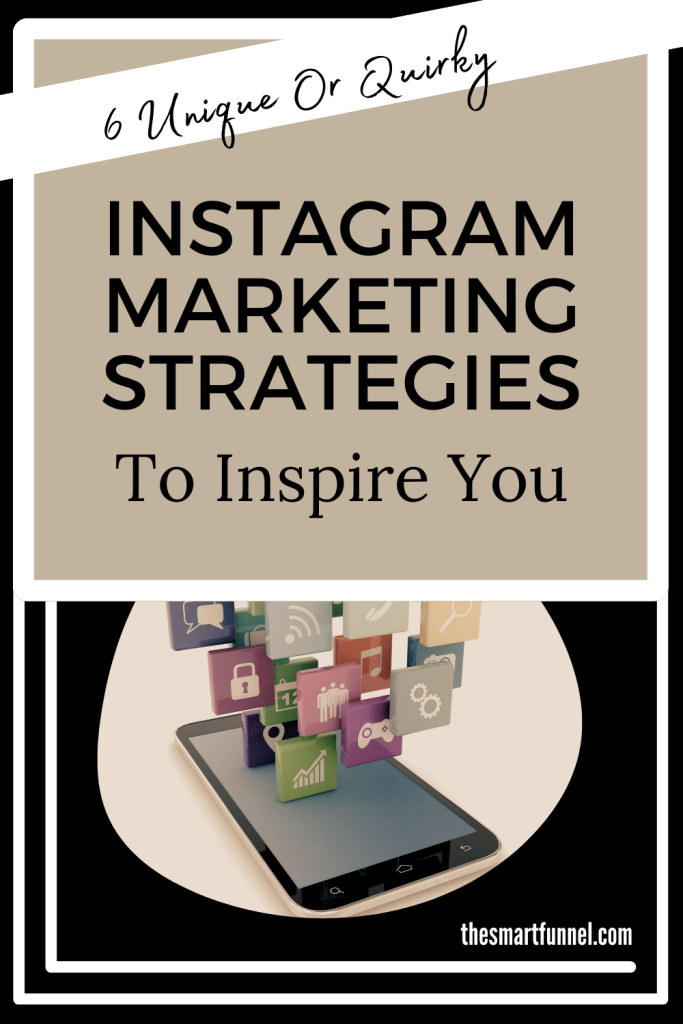 Summary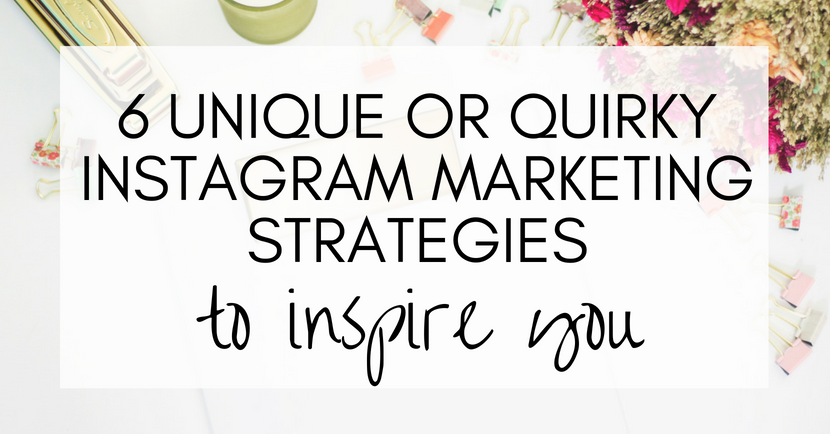 Article Name
6 unique or quirky Instagram strategies to inspire you
Description
Try something unique with your Instagram account! Here are 6 quirky marketing strategies that were a massive success for their companies