UnsplashSocial media should work for your business.
Sounds obvious, doesn't it?
But I have witnessed countless businesses and blogs fall into the trap of spending hours a day on social media in an effort to help promote their business.
Consider that for a moment. All the hours spend on social media are hours that you aren't serving customers or selling products. It's not profitable time for you and your business. It's not time you can bill for, or time you can spend doing all the fun things in your business that make you love it so much.
And sure, whilst social media marketing is important, it must serve a purpose. So, if it's taking hours and hours every day, then now is a good time to ask yourself what you can start doing differently.
When it comes to Instagram, here's some tips that will get you started.
Please note this post may contain affiliate links. Please refer to my disclosure for more information. 
The 5 Minute Challenge – A Quick Preview
If you're in a rush, here's a quick look at what the 5 minute Instagram schedule involves. The key aspect to this method is using your phone to create and schedule your content, which means you can easily fit it into the busiest day – perhaps when you are waiting for your regular coffee in your local coffee shop.
What You Need
An image bank on your phone of great photos you can quickly access (try Depositphotos – they have some fantastic deals)
A graphics apps you can use on your phone (I love Wordswag)
A scheduler with a phone app (I love Tailwind)
A Quick Ten Second Run Through Of This Method
Pick some stock photos, and keep them stored on your phone
(Optional) add a quote, call to action or promotional headline to your image using your phone
Upload your image to your scheduler
Add a caption
Add 20-30 hashtags
Post
Schedule the content again for 1 month's time
Repeat x 3 for each day
How Instagram Has Changed – To Your Advantage
Instagram has changed a lot of the years. In some ways it's harder than ever to get noticed and promote your business, because they've changed the rules. In other ways, though, it's actually easier. There are amazing tools on the market now that can streamline your Instagram efforts. That means you can use your time smartly, and get the biggest return for your time spent on the platform.
In fact, using tools and smart systems to run my Instagram accounts means that I can manage content for any Instagram account in less than 5 minutes a day. It's very easy – just 3 steps, in fact.
Here's how I do it.
Step 1: Fast Instagram content production
Yes of course you can spent hours creating the perfect photo. I won't stop you. But do you want to create beautiful photos, or do you want to use Instagram for your business? I can't help you with the first (I'm not a photographer) but if you want to use Instagram for your business, you need to find a better way. Here are some fast suggestions:
Stock photos – they used to be frowned upon, but there are some amazing sites out there now doing far more creative things than the whole "group of business people pointing at a laptop screen" thing. My recommendations are Unsplash (free), Stocksnap.io (free) and Depositphotos (not free but great value for money, and I find that paid images tend to get much better engagement on social media).
Apps – I still love Wordswag! I've been using it for years. There are other apps that do similar things and I'm sure they are great too, but an app that can help you create a pretty looking graphic with an overlay of text in a nice font goes a long way – it's a 2 minute task and can be used to create an uplifting quote or a promotional message.
Spend an afternoon browsing through images, collecting your favorites, and storing them on your phone for easy access later on.
If you don't already know, Instagram has now changed it's policy of auto-scheduling. It never used to be allowed, so it was a bit of a pain having to log onto an app and copy and paste into Instagram every time you wanted to post new content. Now, you can schedule hundreds of posts in advance, set the date and time and let it run.
You really want to pick a scheduler that has an app too, so that you can schedule content directly from your phone. I have two recommendations for you: Crowdfire and Tailwind.
I used to be a loyal customer of Crowdfire when it came to Instagram. Actually, I still love Crowdfire and I use it a lot for Twitter. It's still great. But when it comes to Instagram, there's a new kid on the block and it's saving me a lot of time when it comes to scheduling Instagram content – Tailwind.
The reason I switched to Tailwind was really down to three specific features. The first is the scheduling app itself which is super easy to use – you can line up your content, drag and drop to create the right layout, and schedule with one click. The second thing I love is the hashtag finder. Tailwind gives me hashtags suggestions based on what I have previously posted (I've written about the hashtag method I use here). That's a pretty useful feature, but what's even more helpful is that it tells me what hashtags are the best choices – it rates them as competitive, good, best and niche.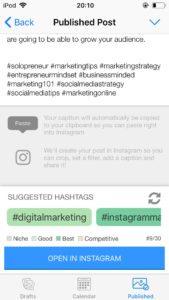 Step 3: Reusing and optimising content
Those of you paying attention will have noticed I mentioned three reasons why I switched to Tailwind. The third is that it is easy to reschedule previously posted content to Instagram – it's pretty much just one click of a button and it gets rescheduled to the next available slot in your content calendar.
Use that feature! Many Instagram users pride themselves on producing hundreds of original pieces of content and whilst that is great and can be applauded, don't shy away from reusing good content. If it's worked for you before, it will work for you again and will reach a new and bigger audience (do try using a different caption and hashtags though).
The 5 minute challenge
So can you really spend just 5 minutes a day keeping your Instagram account alive? Let's look at a realistic timeline:
Minutes 0-2 open up wordswag. Choose an image from your image bank, or if you are really in a rush, use a template or background image available in Wordswag (it uses Pixabay's library of free stock images). Think of a word, quote, inspirational statement or promotional message for your current launch. Write it, choose a font, and save the image.
Minute 2-4 – upload the saved image to Tailwind (using the app, so this is all done from your phone). Add a caption. Add some recommended hashtags. Click to schedule. It will be scheduled for your next available slot on your pre-determined scheduling calendar.
Minute 5 – When it's published, log onto Instagram. Check for comments. Interactive with your audience. Browse your feed. Like content that inspires you.
Voila! Done – and in just 5 minutes.
Of course, you can do more than this to grow and promote your account. I always recommend posting around 3 times a day, and it's nice popping onto Instagram throughout the day to engage and interactive with other people on there – especially your followers. But in terms of keeping your Instagram account fresh and current, and working for your business, you can certainly work smart with your time.
A Final tip
If you really want to be efficient with your time, batch-produce your content at the start of each month. 90 pieces of content – 3 times a day. Spend the start of the month planning, producing and scheduling it. Then, all you need to do is make sure you are regularly logging on to Instagram and interacting with your audience.
Bonus Tip – How to Build Your First Sales Funnel
Once you have a fantastic Instagram feed up and running, now's the time to start thinking about growing a high quality following and start making sales for your business. You can access our free Smart Funnel guide by entering your email address below, and discover how to create your first sales funnel for your small business.
Summary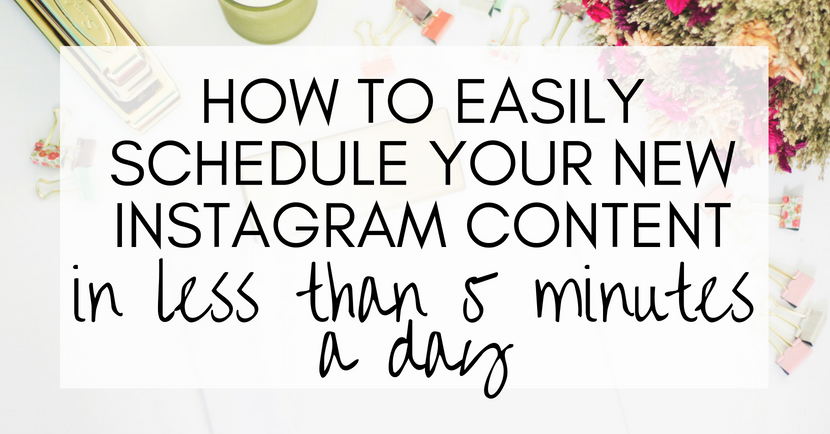 Article Name
How to easily schedule your new Instagram content in less than 5 minutes a day
Description
Want to manage your Instagram account in under 5 minutes a day? Here's a simple guide on how to set that up for your business
Author