In March 2016, Instagram released a new algorithm affecting how posts are ordered on people's news feeds. It means that posts are no longer ordered by date (i.e. most recent first) but are instead done by an algorithm created by Instagram, which, to quote the social media company:
"will be based on the likelihood you'll be interested in the content, your relationship with the person posting and the timeliness of the post".
Note: this post contains affiliate links. Please see my disclosure for full details. 
What This Means To Businesses On Instagram
So what does that mean to you as a business if you are using Instagram for marketing purposes?
Well, firstly, it's not the end of the world. Many businesses worried that this algorithm was going to take Instagram down the same route as Facebook for business, whereby it's become more and more difficult to get your audience to see your posts, and more and more expensive to promote your business.
That isn't the case here. For a start, unlike Facebook, Instagram doesn't (yet) differentiate between personal accounts and business accounts.
What it does mean, however, is that you can't simply post multiple times every day and assume your followers are going to see what you are posting. You have to work harder to get your followers to value and engage with your content.
That's not a bad thing. Because if you are using Instagram to market your business, your audience should be engaged with your content anyway, otherwise what's the point?
Tips On How To Make The Most Of This Change
So here are some tips as to how to make the most of this new Instagram algorithm:
When growing your following, make an effort to target your audience well so that you are only being followed by people who are likely to be interested in your content
Add plenty of high value content to your instagram feed
Encourage your followers to comment on your posts
Always respond to comments from followers. Even better: ask them another question so they comment again.
Avoid asking followers to "turn on notifications". This is just going to mean followers get notifications on the phone every time you post, which is going to annoy them rather than helping you to get more engagement.
Look for patterns in your posts: find the posts that generate the highest levels of engagement among your following and do more of them
Need some inspiration on how to create great quality content? Read this post
Grab this fantastic free webinar training from Bossbabes as they delve into the step by step approach that took them to a multi-million pound business on Instagram in just a few years
So tell me, what's been your experience so far since this algorithm went live in March? Comment below.
Bonus Tip – How to Build Your First Sales Funnel
Once you have a fantastic Instagram feed up and running, now's the time to start thinking about growing a high quality following and start making sales for your business. You can access our free Smart Funnel guide by entering your email address below, and discover how to create your first sales funnel for your small business.
What To Read Next
Get some inspiration on what content to post with this guide
Make sure your Instagram profile stands out. Here are some simple steps you can take
Summary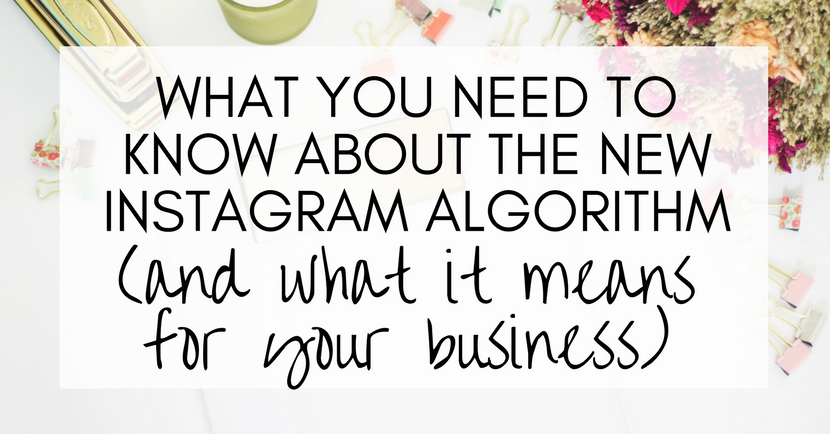 Article Name
What you need to know about the new Instagram algorithm
Description
Here's how to make the Instagram algorithm work effectively for you when promoting your business on the platform
Author